The Top 5 Family Resorts in Spain
For families, especially those with small children or kids of all ages – from teething toddlers up to the most fussy and hard-to-please tweens and teens – the age-old holiday question always arises: where can we find a resort that will appeal to everyone? This query is especially important if you're planning to jet off to somewhere across the sea, such as sun-drenched Spain. After all, it's no fun to pack up everything you'll need for a week or two away, plus endure all the hassles of air travel, only to arrive at your destination and find out that you've chosen a place that isn't as family-friendly as you had anticipated.
Luckily, more and more hotels and resorts across the globe are realising the paramount importance of catering to the particular needs and desires of families. These forward-thinking holiday getaways are routinely including things such as kids' meals, children's pools and a list of events or attractions in the area designed to capture the interest of the entire family. The truly outstanding family-centric resorts offer on-site kids' and teens' clubs with trained staff leading young ones in fun and safe activities – leaving parents free to enjoy some good times on their own.
Here are five of the top family resorts in Spain.
CLC World Marina del Sol
Ideally located on the almost perpetually sun-soaked Costa del Sol region in Malaga province, CLC World Marina del Sol isn't only renowned as one of the best family resorts in Fuengirola, but is also known as one of the most welcoming for families throughout all of Spain.
Depending on the size and age of your family, you can choose plush accommodation that ranges from one-bedroom, one-bathroom apartments that sleep four people all the way up to three-bedroom, two-bathroom models that can comfortably house eight. Each beautifully finished apartment comes with a kitchen, perfect for self-catering and also is practical and filled with kid-friendly details.
A stay at CLC Marina del Sol features an array of dining options, with plenty of menu items sure to tempt even the pickiest of youthful appetites. As parents laze on sun loungers drawn right to the edge of the sparkling pool, share a cocktail in the shade or indulge in a spa treatment or two, they can rest assured that their little ones are well taken care of at CLC Marina del Sol's Team Marina. At Team Marina – CLC World's kids' club for ages four to 11 – young ones will have a blast frolicking and playing under the careful supervision of a dedicated team of childcare professionals. Plus, teenagers can also get in on the excitement, as Team Marina is happy to organise fun-filled events to keep them well occupied.
When you're ready to take the family and venture out from your ideal base at CLC Marina del Sol to experience some of what the Costa del Sol has to showcase, you'll be spoiled for choice. From a stunning immersion zoo to a thrilling cable car ride up a nearby mountain, you'll have loads to see and do in this area of Southern Spain.
Borda de Ritort
Nestled in the Pyrenees Mountains on the border between Spain and France sits the town of Sort. This idyllic Catalonian spot is the site of family-oriented hotel Borda de Ritort. This rustically decorated resort highlights a décor that relies heavily on wooden floors, homely stone walls and communal spaces where families can gather in comfort to bask in each other's company and plan the exciting events of a day in the Pyrenees.
A nature-lover's paradise, this mountainous area of Northern Spain delivers a cornucopia of activities guaranteed to get the pulses racing. Head to nearby Aiguestortes national park where you can hike steep paths through gorgeous terrain, raft and kayak along a frothy river and feast your eyes on majestic scenery. Near to the hotel, there are also bikes to rent and stables with horses for hire.
Back at your headquarters for your Catalonian stay, the whole family can benefit from Borda de Ritort's outdoor pool, playground, gym and sports field. Mealtimes are a treat with Catalonian fare, prepared using fresh produce grown on the hotel's farm. And, best of all there are always several kid-pleasing options on the menu, like home-made pasta and pizza.
CLC World Castillo del Rey
One of CLC World's superb family resorts in Fuengirola, CLC World Castillo del Rey is a magnet for families longing for a sun-splashed holiday in Spain. Set in the heart of the Costa del Sol, close to gorgeous sandy beaches lapped by the aquamarine waters of the Mediterranean Sea, this resort, like the nearby CLC Marina del Sol provides an impressive collection of amenities and elements tailor-made for family enjoyment.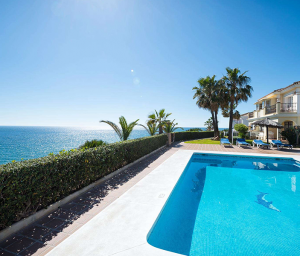 Well-appointed two-bedroom, two-bathroom apartments include open-plan kitchens (allowing for self catering when you're so inclined), and accommodate up to six people in comfort and style. A selection of dining spots serves up cuisine from CLC World's team of talented chefs, with a variety of menu options that are bound to satisfy the tastes of every member of the family. And, to really ensure that the entire family makes the most of their long-anticipated holiday on the Costa del Sol, CLC Castillo del Rey's Team Marina will keep the kids engaged and content with some well-supervised entertainment, opening the door to endless relaxation options for mum and dad to indulge in.
Hotel Castell d'Emporda
See another side of Spain, as your entire family takes up residence in Hotel Castell d'Emporada, set in a fairy-tale medieval castle built in the 14th century. Situated atop a hill on the outskirts of the quaint Catalonian town of Bisbal, which is famed for the ceramics it produces, this authentic castle has been painstakingly transformed into four-star hotel.
Aside from the undeniably exciting prospect of staying in a castle with its very own turret, coat of arms and fantasy-like aura, children will be enchanted with the kids' menus on offer in the resort's restaurants. Not to mention their glee when they catch a glimpse of the more than 3,000 toy soldiers in the sprawling model of the Battle of Waterloo, which has been created by the hotel's owner. And, parents will be pleased as well with the many sights and sounds of Catalonia and the Costa Brava right on the doorstep. Plus, with babysitting services easily arranged, everyone will have a chance to play.
Hotel Aiguaclara
In keeping with the offbeat charm of a castle from the Middle Ages, the Hotel Aiguaclara is located in an eccentrically grand mansion. Taking pride of place in the medieval village of Beglur, in the Catalonian area of Spain, this boutique-style resort is full of quirky touches and unique architectural flourishes. Yet, although it exudes a chic vibe, the Hotel Aiguaclara goes out of its way to make families feel at home.
The massively-proportioned bedrooms not only boast high-ceilings, wonderfully unmatched furnishings and the occasional terrace or balcony, they also come with loads of space in which to pile in an extra bed or two. With communal toys there to be borrowed, board games galore and a friendly, open attitude towards all things related to kids, the Hotel Aiguaclara makes a splendid jumping-off spot from which to discover the multiple local diversions within easy driving distance, such as the Costa Brava's famed beaches and the city of Girona.