Through the Looking Glass of Luxury in Marrakech
Experience one of Africa's most fascinating cities in unmatched style: for the most discerning of travellers, only a stay at the Royal Mansour in Marrakech will do.
To call a place one of contrasts has surely become one of the most clichéd phrases imaginable – as if anywhere one-dimensional would be remotely worth visiting – but when it comes to Morocco, and Marrakech in particular, surely to fail to mention it would be something of an omission. Especially when staying at the Royal Mansour, one of the world's leading luxury accommodations; the five-star treatment starts before you've even left the airport, when you're whisked discreetly through a VIP lane, as others from your flight mill about filling out visas, joining queues and generally just not being guests of the Royal Mansour. Once through, one of the hotel's fleet of – naturellement – Bentleys awaits, and the journey through the looking glass of luxury is truly complete.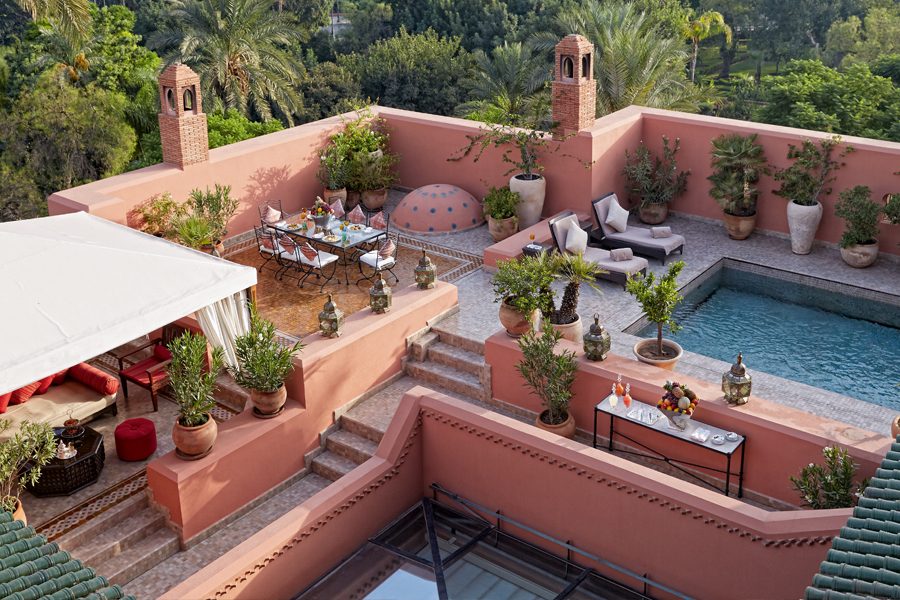 I had made the conscious decision that this trip wouldn't be of the adventurous variety; it was to serve as respite from the stresses of a hellish house move and the endless travails of being a working parent, not to mention the fact that, as a solo traveller, I was somewhat wary of the city's reputation for bewildering (and sometimes more) its – female, in particular – visitors. And so it suited me that the hotel that was more akin to a village in its own right, a walled enclave nestled at the eastern side of the Medina – just a ten-minute walk to the centre of the action at Jemaa el-Fnaa square should I choose it, but equally, should I not, where my every whim could be catered for.
In fact, that's an understatement: while I am not immune to a whim and its charms, the Royal Mansour outpaced me by some stretch. The writing paper, with my name beautifully etched in gilt at the head of the page, that awaited at "my" bureau was a touch that would make an A-Lister blush. Having mentioned to the concierge that evenings spent on my (private, rooftop) terrace had been a little chillier than I had packed for, imagine my delight when, the following night, a fire had been discreetly lit in anticipation of my needing it. It's easy to see how hard it would be to keep your feet on the ground if this was the life you'd become accustomed to – I arrived a simple London girl, and left having very nearly gone full Streisand.
Instantly at home in my new palatial digs, the days took on a rhythm of their own; a sumptuous breakfast was followed by reading by the outdoor pool in the glorious sunshine; lunch at La Table or Le Jardin (two of the three on-site restaurants) would be followed by a nap (had there been wine) or a treatment at the jaw-droppingly beautiful spa (had there not) in the afternoon. A dinner at the fine dining gem La Grande Table Marocaine, run by three Michelin-starred chef Yannick Alléno, was a one-off treat – the food was out of this world and, unlike most restaurants of its class, the portions were not meagre, defeating even this hungry diner – so most nights were spent dining al fresco on my aforementioned terrace, a midnight dip in my private plunge pool rounding off another day in paradise.
All this meant it was only too easy to forget that I was in one of the most vibrant, fascinating and culturally-diverse cities in Africa, so in spite of my self-prescribed confinement, I did venture out – and what a treat when I did. An afternoon at the stunning Jardin Majorelle was simultaneously a kaleidoscope of colour and an oasis of calm. But the high point was meeting the most well-connected man in all Marrakech, kindly appointed by the hotel as my tour-slash- history-slash-shopping guide for a trip into the old town. His name was Mr Ben (and yes, I tried to describe to him the much-loved children's TV show of the 70s, and no, that conversation didn't go brilliantly), and it was a wholly fascinating experience; I learned about the melting pot of cultures and religions living side by side under one of the most liberal and welcoming monarchies in the region; I visited an apothecary and learned about the traditional uses of various exotic herbs, spices and traditional medicines; I ate an enormous pigeon pastilla the size of my head for lunch, and I dream of it still. I think some of the vendors we visited may have been a little disappointed to realise that my budget didn't necessarily match that of Mr Ben's previous guests (John Legend and Chrissy Teigen were, thrillingly, my predecessors), but they were too polite to show it. And yes, it was noisy, chaotic, hectic, filled with sights and smells that, combined, created the assault on the senses that I'd been warned about. But under Mr Ben's wing I felt safe at all times, giving me the perfect opportunity to experience that famous contrast without being overwhelmed by it.
I truly can't recall another five-star experience where I was made to feel so instantly at home, or greeted by smiles of such sincerity I felt like an old friend returning. As the Bentley whisked me back to airport, and to real life, I blessed my lucky stars (all five of them) and treasured the memories that will last me a lifetime.
Room rates from €1,073 per night excluding taxes and fees.
Rue Abou Abbas El Sebti, Marrakech, 40000, Morocco (+212 529 808080; royalmansour.com)