The Other Side of Mykonos
A Treasured Island.
Mykonos might be known as a luxurious party island from dusk till dawn, but there's plenty to see and do in the daylight hours, too. "Mykonos. Isn't that like the Ibiza of Greece?" So says my taxi driver as he whisks me off to Gatwick at 4.40am. I tell him that's what I've heard and doze all the way to the airport with dreams of flashy beach parties, luxurious hotels and bronzed celebrities whirling through my mind. Boarding the plane, I'm surrounded by glamorous hen parties wearing surprisingly tasteful 'Team Bride' tees, all chattering excitedly about their plans to party until sunrise in Mykonos Town, the main hub of bars and nightlife. I'm learning that Mykonos is an island with a reputation that precedes it, but I'm excited to see what else it has to offer beyond the partying.
From the moment I touch down, I'm struck by how beautiful the island is. Against a rugged, hilly backdrop, everything shines in white and blue, the colours of the Greek national flag. From the window of the car, cobalt shutters and domes flash past, the blindingly white buildings tumbling down toward the sea like scattered sugar cubes. So far, so scenic, and we haven't even reached the hotel yet…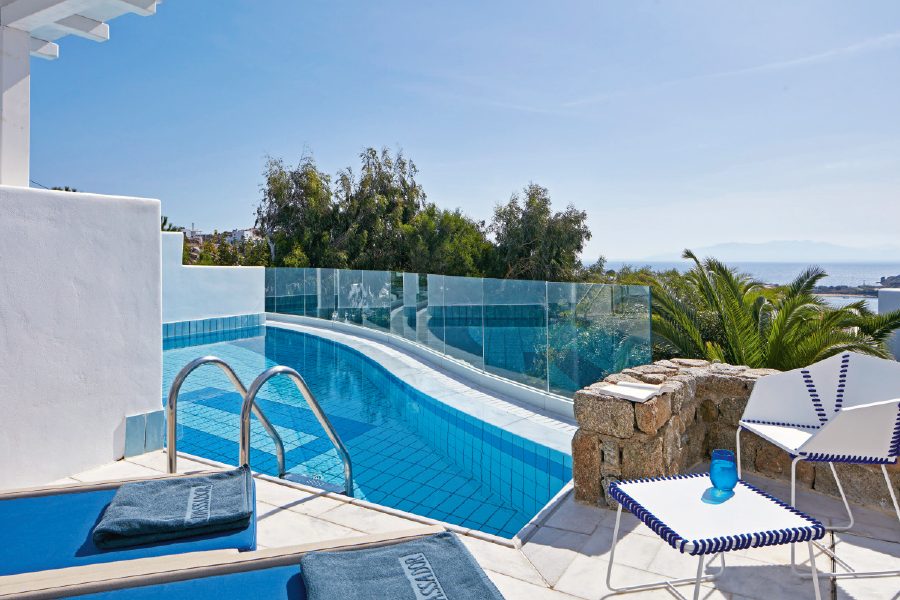 The Myconian Collection
For unparalleled views and unstuffy luxury, there's only one place to stay on Mykonos. Or rather, one collection of hotels, with nine resorts dispersed across the island. Founded by George and Eleftheria Daktylides, and now managed by their four sons, the collection is a family venture. Just like the members of a family, each property is unique, with the same building blocks at heart: distinctive interior design, a gourmet restaurant and a luxury spa.
Five of the resorts are tucked away above Elia Beach. While they share similar views over the Aegean Sea, each is a bespoke boutique hotel in its own right, with a distinct look and feel. Among these are the metropolitan Myconian Imperial Resort, the exclusive Myconian Villa Collection, home to velvet-clad sun loungers and a fine dining restaurant, and the quirky-meets-luxe Myconian Utopia Resort with driftwood sculptures and a picture-perfect infinity pool. Unlike some of the other Cycladic islands, Mykonos is blessed with gloriously sandy beaches, and all five resorts have access to a private area of Elia Beach below.
To the south of the island lies the chic Myconian Ambassador hotel designed in traditional white and blue with a vast umbrella-fringed pool. The final three resorts perch on a hillside overlooking Mykonos Town and the west coast. This is the view I see when I check in to the Myconian Kyma hotel, throw open my window shutters and step out onto the balcony.
With shining, white-washed terraces and rooms with their own private pools (tip: book a Mediterranean Suite for the ultimate private infinity pool), Kyma is a relaxed haven, despite its location just a short drive from all the action of Mykonos Town. Thanks to its thoughtful architecture and art-filled interiors, it's also easy to see why Kyma is a member of Design Hotels. Its newly opened Noa restaurant serves contemporary Greek food; I dine on melt-in-your-mouth feta crumbled over salads, creamy tzatziki, fresh mezes and sticky orange cake, all served with a side of panoramic sea views.
Experience the real Mykonos
To help guests explore the island in a more meaningful way, the Myconian Collection has curated a new, exclusive programme of experiences. And so, the next day, I visit Rizes Folklore Farmstead to learn all about traditional life in Mykonos before it became such a tourism hotspot. Our guide explains that each farmstead is like a self-sufficient village, with a multi-generational family living and working there. I (quite literally) get to sample local flavour with a brunch of fresh eggs and homemade cheese, bread and lemonade, the latter of which is so sweet it makes my tongue tingle like sunshine. Wandering around the olive groves and small, traditional buildings couldn't be further from the glitz and glamour usually associated with Mykonos, and yet, in a way, this is the real Mykonos.
A step back in time
From history to ancient history, my next experience is a trip to the small, uninhabited island of Delos. Way back in the day, Delos overshadowed its neighbour Mykonos as the legendary birthplace of Apollo, becoming a hub of both religion and trade. Now a UNESCO World Heritage Site, Delos is known as the 'Garden of the Gods'. My guide leads me through the remains of the ancient civilisation, which was preserved underground for years before excavations began in 1872. I step into the unearthed ruins of shops and theatres and admire the freestanding columns, mosaics and statues of long-forgotten Greek nobles. Surrounded by peaceful meadows of wildflowers and the odd purring cat, it's easy to forget this important archaeological site is just a 30-minute boat trip from the bustling shorefront of Mykonos Town.
Mykonos Town by day
Wandering about Mykonos Town during the day is nothing like being on the 'strip' in other renowned party towns. Instead, I amble down winding pathways between whitewashed, bougainvillea-draped boutiques. Every street is an Instagrammer's dream, and I take full advantage. I stop to pose for a photo in front of the Kato Mili windmills. As 'The Island of the Winds', the wood-and-straw windmills were once an important part of Mykonos' pre-tourism economy; now they're an iconic part
of the town's shorefront.
Evenings in Greece are the highlight of any given day, with long lazy dinners to round off an afternoon of exploring. From Mykonos Town's position on the west coast I'm rewarded with a spectacular sunset each night, where, for once, the island swaps its whites and blues for rose-tinted buildings and orange streaked skies. Little Venice is the best spot to catch the show, with a sundowner in hand. Here, the bars hug the furthest edge of the land, perching right on the side of the sea. For those here to party, it's the start of a night of revels. For me, it's the close of another peaceful day in paradise.
Classic Collection Holidays (0800 047 1064; classic-collection.co.uk) offer 7 nights at Myconian Kyma from £1,496 per person. Price based on 2 adults sharing an Apollon deluxe garden view room on a bed and breakfast basis and includes return flights from London Gatwick and private transfers. Room upgrade: Ocean junior suite sea view from £137 to £166 per person per night depending on season.