Staycation: Fit for a King
Just a short hop upstream from central London, Hampton boasts charm and historic appeal. Not to mention being home to Hampton Court Palace – once home to Henry VIII and his many wives. Hankering after a change of scenery, it seems the perfect spot for a last minute holiday.
Our base for exploring is The Kings Arms Hotel – a Grade II listed 18th century former inn, now contemporary-chic hotel and restaurant. It occupies a dream spot, right beside the Palace's Lion Gate, backing onto the famous maze(the UK's oldest surviving hedge maze, no less) and opposite the entrance to Bushy Park.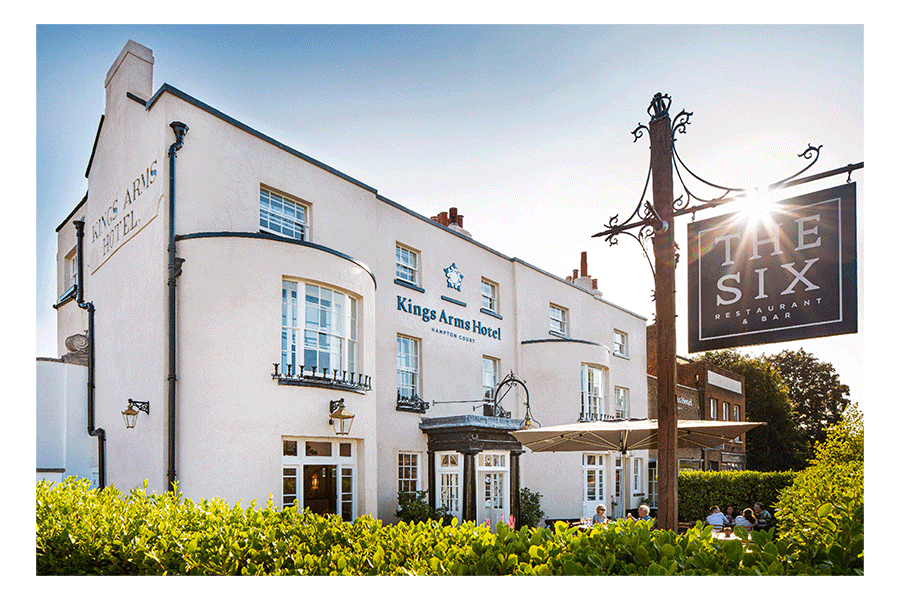 Inside is welcoming and cosy. Old-world charm and contemporary décor merge seamlessly at this boutique hotel. The lobby is bright and airy, with a mosaic tiled floor, bespoke artwork and large light emitting windows. Equally impressive is the restaurant and bar, The SIX, which is named after the aforementioned royal wives. It is tastefully decorated with royal blue banquette seating, gold light fixtures and ample green foliage. 
Varying in size and shape, each of the 14 rooms has been individually decorated in a luxuriously muted colour palette. Expect large sleep-inducing beds, original artworks and plenty of home comforts with all the mod cons: TV, coffee machine, locally-sourced toiletries, soft fluffy towels and robes, a well-stocked minibar and complimentary wine and biscuits. We are staying on the first floor, in a room that boasts views over the beautiful park. Smokey greys and warming dusky pinks are carried from the plush fabrics right through to the handmade tiles used in the rain shower. Large, draped, botanical-printed curtains frame the view, and the secondary glazing in our front-facing room ensures we are completely cut off from comings and goings outside.  
Keen to work up an appetite for our Sunday roast, after making ourselves comfortable, we head out for a stroll around Bushy Park. At over 1,000 acres, it is the second-largest of London's eight Royal Parks; we wander through the peaceful Woodland Gardens and admire the freely roaming deer. 
Back at the hotel, it is time to eat. The SIX serves an eclectic, seasonal British menu that uses the highest-quality local produce (with vegetables picked straight from the Palace's kitchen garden). Food has been curated by Michelin-starred chef Mark Kempson and the kitchen is run by head chef Jack Scoines and his talented team. I tuck into a delicious plate of roasted pork belly and roasties cooked in dripping, which come accompanied by a scrumpy chutney, glazed vegetables and a healthy serving of orchard pig cider gravy. My partner, meanwhile, chooses 31-day aged roast sirloin of Angus beef with all the trimmings. Both are delicious, and feel very much like the sort of thing the staff in the Palace kitchens might have produced for a royal feast. Full to almost bursting, we opt to share the bee pollen and vanilla pannacotta with Champagne strawberries and raspberry sorbet. We're glad we did, as it is utterly divine. We wash our meal down with Hampton Court's award-winning small batch hand-crafted botanical gin, The Six Wives, and a few pints of locally-brewed Wimbledon Ale. 
That evening, feeling incredibly satisfied, we retreat upstairs to our room. Snuggled into the comfiest of queen-sized beds, with the thick curtains drawn, we are set up for the deepest sleep we've enjoyed in months.
Perhaps unsurprisingly, we're still quite full when we arrive for breakfast the next morning, but the offer of the rare treat of cooked breakfast proves too hard to turn down. A jaunt around Hampton Court Palace is on the itinerary, and we enjoy a wonderful sunny day, full of adventure and fun. The Kings Arms Hotel has proven to be a real jewel in the Capital's crown and we very much hope to be back again soon.   
Rate for a standard room for 2 people from £120 per night (including breakfast). Kings Arms Hotel, 2 Lion Gate, Hampton Court Road, Molesey, KT8 9DD (020 8016 6630; kingsarmshamptoncourt.com)