St Tropez and Pampelonne Beach: The Hottest Openings of 2019
Sponsored Post.
There have  been a lot of exciting new openings in St Tropez this year, particularly along Pampelonne beach, where the departure of many much-loved beach clubs was considered a revolution by some residents.  They were replaced, however, by several chic new clubs, geared at attracting an even more upmarket, A-list clientele.
At the same time, several new restaurants established themselves in St Tropez, alongside one brand new hotel complete with its own, private St Tropez beach.  Let's take a look at all the best new establishments to open in St Tropez this year.
Pampelonne beach clubs
If you're looking for a day of elegant relaxation on Pampelonne beach, these stylish new beach clubs will doubtlessly fit the bill.  Aimed at the ultra-elite, these are the places to sip cocktails on elegant sunbeds, enjoy gastronomic seafood lunches under the shade of an umbrella, and indulge in afternoon partying with live DJs.   New to 2019 were:
La Réserve à la Plage
Promising a relaxed vibe and chic bohemian style, with a thatched roof, burnt orange cushions and straw lampshades, La Réserve Beach Club is headed by Michelin-starred chef, Éric Canino.  Starters included fried octopus, tomato carpaccio with burrata, tempura of courgette flowers with minty ricotta, and from the Crudo Bar mango tuna tartare, salmon, tuna or sea bream ceviche, or beef or veal tartare.  Main courses included squid à la Provençale, grilled sardines, king prawns and rock lobster, and for meat-lovers, there was matured black pearl rib eye steak and grilled lamb skewers.
Byblos Beach Club
Offering a relaxed but sophisticated family-friendly atmosphere, with sun beds set on the St Tropez beach, and white table settings with dashes of sun-kissed orange, Ducasse-trained Rocco Seminara's menu included burrata with tomatoes or truffles, king crab with avocado and sea bass ceviche, and for main courses, mixed fried fish or beef tartare, grilled catch-of-the-day, octopus and king prawns.
La Serena Beach
This Pampelonne beach club promised a warm and zen ambiance, and was decorated with pale wood, creamy beige cushions and splashes of turquoise.  Its professional, youthful staff served up healthy breakfasts, aperitifs and signature cocktails, and highlights of the gastronomic menu included satay tuna cubes, spider crab linguini, marinated beef tataki and share platters for long and leisurely lunches.
Loulou Beach Club
This sister club of Loulou Paris looked to attract a fashionable crowd, and earned rave guest reviews as the 'best experience this season'.  Its relaxed Mediterranean setting and  uncomplicated French-Italian Riviera menu offered shared mezze dishes, pizzas, asparagus risotto,  linguine with fresh clams, and extravagant lobster creations.  Guests also heaped praise on the DJ and the dancey afternoon atmosphere.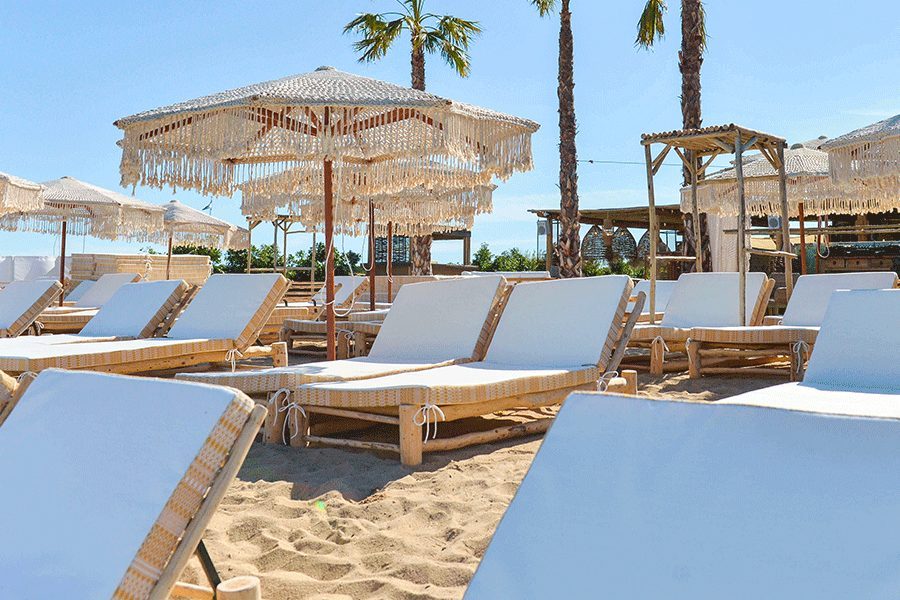 Verde Beach
Brought to St Tropez by hip Paris restaurant group Yeeels, the décor promised to be cosy but contemporary, and its menu was created by Michelin-starred Thibault Sombardier.  Highlights included tapas, sea bream carpaccio, grilled tuna tataki, wagyu carpaccio with summer truffle and Parmesan, sea bass tartare, oven roasted feta with roast vegetables, scampi, sardines or a portion of caviar.  The real partying started around 17:00 with live DJs, with luxury relaxation the order of the day beforehand.
New restaurants & hotels in St Tropez
There's more to the new openings than the beach clubs along Pampelonne Beach, as several exciting new restaurants and a five star hotel opened their doors in St-Tropez in 2019.
L'Italien
Located on the port, L'Italien bursts with warm, Italian charm and is perfect for a summer alfresco lunch or supper.  The setting is that of a romantic garden pergola with colourful hanging lanterns, and the menu is authentic and generous, with antipasta, pasta and risotto, served with cocktails and fruity Italian wines.
La Petite Plage
Also new to the port is the chic and cosy La Petite Plage, with its sand-covered floor creating a unique St Tropez beach atmosphere. Chef Eric Frechon serves beautifully presented Mediterranean  dishes such as tuna tartare, or calamari with chorizo.  With cocktails and a live DJ, it becomes a great party spot.
Cucina Byblos
With its trattoria chic ambiance, Cucina Byblos is a welcome Italian offering from the Hotel Byblos that has taken the place of Rivea, and has Michelin-star chef Alain Ducasse at its helm.   The cuisine is inspired Italian, and includes antipasti and charcuterie, octopus, sardines, local lamb, risottos and pastas, as well as pizzas.  At night, al fresco dining is lit up by romantic lanterns hanging from the trees.
Kinugawa
Located on the jetty, Kinugawa is a new Japanese restaurant that offers a glamorous dining hall and tropical terrace, with breathtaking bay views.  On the menu are hot and cold starters, from miso-glazed aubergine to lobster spring rolls, as well as salads, tempura, fish and meat dishes,  sushi, sashimi, maki and California rolls.  They also serve cocktails, mocktails, wine, Champagne and sake.
Hotel Cheval Blanc
Located in a 1936 villa and offering a haven of tranquility, its interior was redesigned by Paris-based architect Jean-Michel Wilmotte and given a new lobby, a Guerlain Spa and thirty elegant guest rooms and suites, some of which have spectacular sea or pool views.
If villa rentals in St Tropez are your preference for accommodation, the five-star Cheval Blanc also has two restaurants and a bar.  The bistro La Terrace epitomises the laid-back essence of Mediterranean dining.   In a more formal setting, the three Michelin-starred La Vague d'Or, with Arnaud Donckele at its helm, promises to take its guests on a magical journey between land and sea, with five or nine-course tasting menus making it a foodie's paradise.
It's the hotel's very own private sandy St Tropez beach that really sets it apart, however there is also a heated fresh-water swimming pool for those who prefer.  On its terrace, drinks and light bites are served under the sun.  For sheer relaxation and indulgence, the Guerlain Spa offers all kinds of body and facial treatments, with a hammam and, for the brave, a snow shower and ice-fountain.
We can definitely say that, with all these exciting new clubs and restaurants opening, 2019 has been a great year for St Tropez and Pampelonne Beach.  Who knows what 2020 may have in store?