From winding medieval streets to sweaty flamenco clubs off the beaten track; culinary delights to awe-inspiring architecture, there's so much to explore in Spain's sunniest city, Seville.
Just as London's tourists cannot resist a photo opportunity with a red phone box, here, for us, it's the orange trees. We've been longing for that Andalusian glow, and the moment we arrive in Seville, we're sat outside a café on a tree-lined street, cerveza in hand, soaking it all up under the exotic vegetation. The sun is shining for us as we meander through the buzzy city streets, dodging trams and bikes on the way to our first of two hotels.
You can't miss Alfonso XIII, a building of jaw-dropping magnificence on Calle San Fernando, a major thoroughfare that leads down to the sparkling river Guadalquivir. The handiwork of architect José Espiau y Muñoz, the hotel was built at the behest of King Alfonso himself, to host international dignitaries at the Ibero-American Exposition of 1929. These days it's more likely to host Hollywood A-listers, such is its reputation as Seville's finest. The hotel is literally palatial and we're pinching ourselves before we even set foot inside the grand lobby with its marbled floor, imposing tiled arches and Moorish chandeliers. The interior is as deco-fabulous as it is north African-influenced – proof that in architecture you can never really escape your time – not that you'd want to here: the curved marble steps are quintessentially 1920s while traditionally-crafted Moroccan lamps in shiny silver hang down on chains. It is a heady mix.
Travel-weary, we're keen to check in forthwith, but we're sorely tempted by the possibility of an upgrade to a grand deluxe room with a terrace – if only we can wait an hour or so for staff to prepare. We momentarily forget we're on Spanish time. Of course, nothing's a rush here and we figure we can manage a couple more cervezas under the orange trees. It only adds to the anticipation. When we do finally make it to our regal room, we laugh at how on earth we could have entertained turning this down. It is an utterly elegant affair with heavy cream drapes, cool stone floor, one enormous, inviting bed and a glamorous Art Deco bathroom. Our own private terrace, complete with patio furniture and sun loungers, is the size of a London studio flat. With its terracotta tiling and twisted iron railings ornamented with arabesque gilded turrets, it is a resplendent sun trap and captures the Andalusian glow perfectly. And we were right to pinch ourselves: from here, through the palm trees, we have panoramic views of the city with the majestic Cathedral of St. Mary of the See straight ahead. It is indeed a sight to behold and it's hard not to feel a spiritual flutter in the presence of such glory.
From the ornate interior detailing (a ride in the magnificent multi-mirrored lift is a must), to the exceptionally thoughtful five-star service (breakfast in the central courtyard is a dream), Alfonso XIII maintains its status as fit for nobility. A stay here is treat for those of us with less than aristocratic blood, then. But it wouldn't be complete without a local tour from Mimo Sevilla, an affiliated cooking school and gourmet shop ideal for visiting foodies wishing to immerse themselves in Seville's culinary culture. We plump for an evening tapas and flamenco-themed jaunt into the district of Triana, the true home, we discover, of the impassioned musical genre. We take in the sights of the historic naval college and the Torre del Oro (Seville's imposing 13th century watchtower) all the while expertly narrated by our knowledgeable guide Aldara.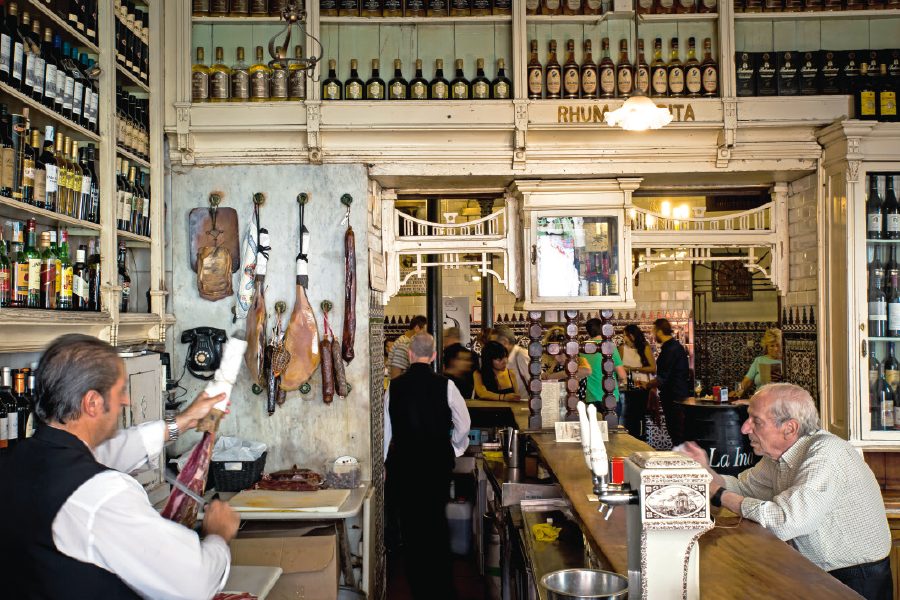 Over the river we can hear the fervent thrum of flamenco shoes as locals practise their craft before we head to our first of many tapas bars. We get our fill of rich, delectable bites washed down with the finest local vino tinto before hurrying into Teatro Flamenco, arguably the best (read: most authentic, least touristy) flamenco theatre school in Seville. We sit front row of the diminutive toy-like auditorium in front of thick blue velvet curtains and cannot help but snigger at its perfectly Lynchian Surrealism.
The hour-long show is a rollercoaster of high-octane drama fiercely performed by just four artists, with such skilled musicianship and deft dance moves, it's as if their lives depend on it. All improvised content, the show is seriously impressive and we can understand why Aldara wanted us to experience real flamenco, this side of the river. As we wipe the dancers' sweat from our own brows (we're that close), we shuffle out of the auditorium more than a little bit stunned and newly in love with Seville, yes, but more specifically Triana.
It is time for a change of scene and so from David Lynch to Stanley Kubrick, we head up the river to Barceló Sevilla Renacimiento, the second of our luxury stays and a five-star hotel that couldn't be further in aesthetics from the former. Modelled after New York's modernist masterpiece, the Guggenheim Museum, Renacimiento, with its trio of interlocking circular buildings and stacked curvy interior, recalls, too, the visual style of 2001: A Space Odyssey – a mid-century design lover's dream.
We're slightly out of town here (albeit not at all by our London standards), and suddenly there's space. The vast entrance lobby is overlooked by an imposing central structure of swooping curves – the corridors holding some 295 spacious and light-filled rooms. The modernist look continues with in-room décor interior designed to complement the arresting architecture: think clean lines and funky furniture pieces with a distinct mid-century edge. On arrival, we are blinded with Sevillian sunshine from our suite's expansive floor-to-ceiling windows and can't help but fall back onto our sumptuous king-sized bed to soak it all up. But there's so much more to explore here, including an indulgent indoor/outdoor heated pool, and to do that we must travel in retrofuture pods that seemingly float from floor to floor: evidently Seville hotels boast a strong elevator game.
We spend the rest of our visit in and out of tiny tapas bars we find off the beaten track; we ogle at the majesty of the jewel-encrusted Virgen de la Esperanza de Macarena; we take in the drama of the Plaza de España; and we find yet more orange trees to sit under, as we sip, and bask in that special Andalusian sunshine. We'd bottle it up if we could. It really does glow.
Rates at Alfonso XIII, a Luxury Collection Hotel, start from €250 (+34 954 91 7000; hotel-alfonsoxiii-sevilla.com)
Rates at Barceló Sevilla Renacimiento start from €79 per night based on two sharing a deluxe room on a room only basis (+34 954 46 22 22; barcelo.com)
Tapas and Flamenco: A Tale of Triana, €125 (sevilla.mimofood.com)