Fabric recommends: AMP Athletic
Hidden away in a former car park, surrounded by dainty mews, you'll find the all-new AMP Athletic, a gym with a refreshing concept on personal training. Founded by award-winning coach Steve Mellor, who previously ran the gym at Claridge's hotel, AMP stands for Athletic, Medical and Performance. Everything Steve provides at AMP is centred around science, body composition, movement screening and nutrition planning.
If personal training isn't your vibe, but classes are, you get the best of both worlds here. With group personal training sessions (up to four people) running on the hour throughout the day, you get the focus of an experienced coach, without the pressure of a gruelling one-on-one session.
Spacious and airy, the gym is kitted out with brand new equipment. It's simple and unfussy, and while it retains the concrete boxy vibe of its past, with exposed pipes and bare walls, it's now far more welcoming to gym goers than four-wheeled visitors.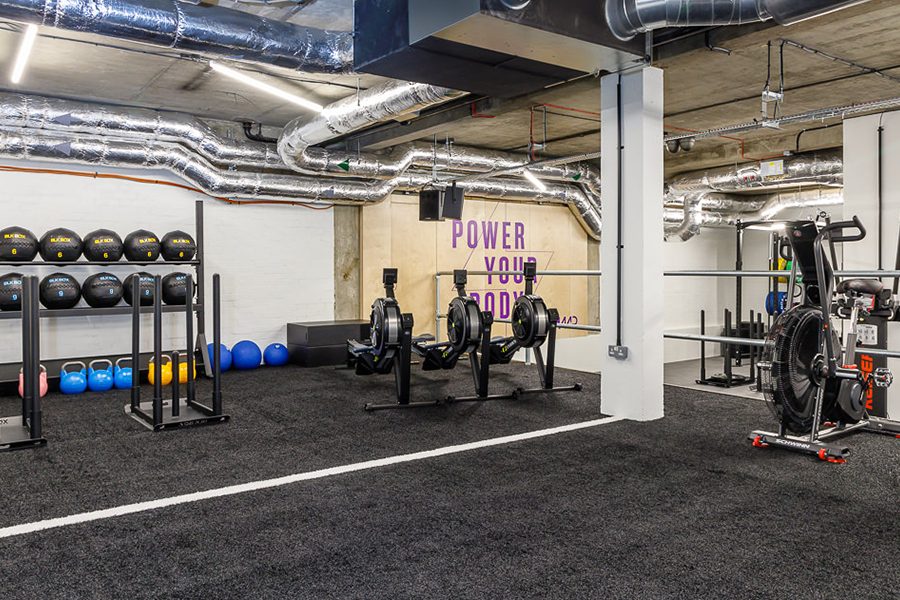 From an ex-professional basketball player to a physiotherapy expert, each coach has their own field of expertise. They all hold sports science degrees and carefully assess your fitness level when you sign up. So, it's no surprise that when I arrive for my session, every gym member is sporting a high-tech heart rate monitor. Names and accelerating heart rates are displayed on a screen so our trainer, Jake, can track everyone's progress and tailor their workouts accordingly. Starting with some vigorous stretching to warm up, we're put through our paces in a workout that's also digitally displayed around the room. After stretches, we fall into short circuits, rotating as a team to get through the session, upping our weights and intensity as we go, with Jake monitoring our heart rates and form along the way. I'm already tired by the time we come to the 'finisher', designed to, well, finish you. In pairs we work through 1500 m on the skier, switching every 15 skis, while our partner holds a 20 kg ball. By the end, 'finished' is exactly what I am.
So how was my session? The beetroot-red face and exhausted body collapsed on the floor say it all, and even three days later, I'm still feeling the effects. If you want to get fit fast, and you're willing to put in the effort, this is the way to do it.
Monthly membership starts from £199. A 30-day trial costs £149. 14a Beaumont Mews, W1G (020 7486 9127; amp.fit)