Exclusive Interview: Mark Stanley
Actor Mark Stanley explains why the perfect career is one where he can play a series of roles where each is so different to the last that he never becomes too famous to pop down to the pub without being recognised.
You're probably trying to place Mark's face, and, perhaps surprisingly for an actor, he'd be glad of that. "The people who I admire, the Paddy Considines and the Cillian Murphys of this world, are the people who can maintain a private life," he explains. In fact, what he wants most from his career, he says, is to "be able to chameleon-ise through parts and to have not done anything so notable that it ruins the idea that you can still put your flat cap on and go to the pub for a pint!"
A variety of roles
But that's not to say that you won't have seen his work. In recent months alone he has appeared as Professor Bhaer, the German love interest of Jo March in the BBC's adaptation of Little Women, and as James, the transgender character in Kay Mellor's six-part series Love, Lies and Records. But perhaps his most recognisable role is that of Grenn in Game of Thrones.
As first jobs go, that was pretty special. "I will never forget that first morning… Walking on to a set like that you are totally enamoured by how grand it is, and the amount of money that has been spent," he recalls. "It gives you a great perspective. You suddenly realise that it is not all for you, and that you are there for it. You are just a small part of this huge machine of a show." 
Those years served as so much more than just a lesson in humility, though, Mark explains: "It was a great opportunity for familiarising myself with the industry, getting on the right side of casting directors and being able to go into the audition room and prove myself." Something he has more than done in the intervening years.
Dark River
Next up for Mark is Joe, the male lead in Dark River, which is in cinemas now. A tale of sibling resentment set on a Yorkshire farm, it is the third film from gifted British writer-director Clio Barnard. "Joe is a character who has lived in isolation for quite some time. And before that he was living with a dying parent who he had been caring for alone," Mark tells me. "We meet him at a time when Alice, his sister [played by Ruth Wilson], has just returned to the farm to reclaim the tenancy after 15 years' absence. She feels it belongs to her, but Joe disagrees with that. Having that sibling come home reawakens that broken familial relationship and brings to the surface a lot of past darkness and trauma to do with their father. That's it in a nutshell."
Mark recalls first reading the script, which was, he says "the best I had ever read," but realised that the part of the alcoholic farmer in the male lead was supposed to be 50 years old. He was having some drinks with a friend, who persuaded him to send in an audition tape, which they did then and there, "a few ciders in". The tape was accepted and Mark was invited in to meet Clio and Ruth. "As far as accepting the part, oh my god I jumped at it. It was one of the best phone calls I have ever had," Mark grins. "I knew that someone like Clio is going to always look for the most real version of a character, but she also has to make sure that she is going to put bums on seats. I was overwhelmed, it really felt like one of those moments when someone champions you."
Mark describes it as a passion project for all involved. "I see the film as a sort of poem, or a folk tale. At times we would really have to be dredging up emotion, so it was a very intense shoot, but not without its larks." He is hugely curious to see how the viewing public receives it. "I am really looking forward to seeing how an audience reacts to how ferocious the piece is," he nods enthusiastically. "Get along there and see it yourself. Prove them right in casting me… I hope I've done it justice."
The psychology of people
It is roles like this – ones that really get into the psychology of people – that appeal to Mark. "It wasn't actually acting that turned me on to begin with. At 'A' level I was hell-bent on doing psychology and sociology," he explains. The joy in acting, he tells me, is getting to the point when you can be a bit more discerning about which jobs you take. "In the early stages you are just grateful whenever anybody tips the hat to you. Recently I have done a couple of jobs that have paid a decent amount of money, and that is like an investment into yourself. You can become a bit more strategic about what speaks to you."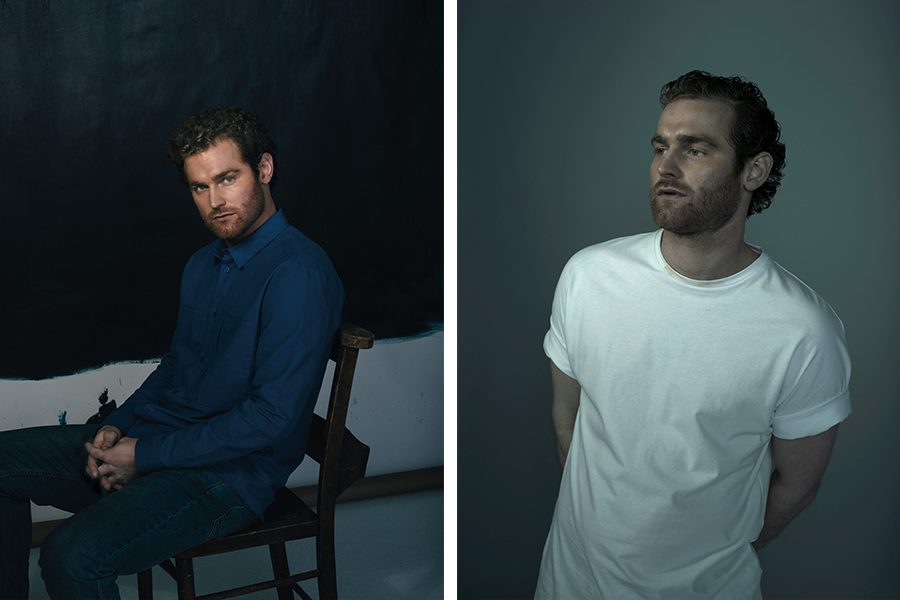 Born to Run
One role that has spoken to Mark is a project he is about to start working on. It is another British screenplay, this time from Scott Graham, with a working title of Born to Run. "It is a great character piece and I am really looking forward to it," he says. Based in the small Scottish town of Fraserburgh, and set over 24 hours, it is billed as a film about growing up in small towns, and a conflict between a father and a son.
Mark is the only non-Scotsman in the cast and says of the accent: "It is very much a work in progress, but I am chipping away at it every day." And he is planning to spend time in Fraserburgh before filming starts. "I want to spend a whole day in a pub from 11 in the morning until 11 at night and just listen to people. See what they are about. What the mentality of the place is," he tells me.
Stage or screen?
I wonder, if he had a choice, would he like to work exclusively on the big screen? "For me it doesn't matter what the medium is as long as the story is good and the characters are three-dimensional," Mark says. In fact, right now, he wouldn't say no to a bit more theatre. "At the moment my missus is working at the Royal Court and I have been bobbing in on a Friday night and having a drink in the bar and getting to know people there – the artistic director and that," he tells me. "I really do think there is something special about that theatre, about that space and the new writers they are championing. I would absolutely love to work there. If I keep buying them pints maybe they'll have me!" Mark laughs.
There are, apparently, both pros and cons to being with somebody who works within the same industry, but for Mark, it is largely a good thing. "At least you can talk about the same things. I'm not sure how happy I'd be if she was talking about consulting or finance and I'd been sitting in all day listening to Radiohead and trying to find somewhere depressive in myself for the next role," he grins.
And it means that they share similar goals and ambitions. "We have just sent off for funding for a short film that she has written and I am directing," Mark reveals, adding: "Sometimes it can feel like you procrastinate your entire life away, so we just want to get on with something, and if we make a pig's ear of it, fine, at least we were brave enough to try it." Whether or not this particular project succeeds, it seems inevitable that we will be seeing much more of Mark in the future.
Photography Kalpesh Lathigra
Grooming Jay Zhang