Exclusive Interview: Taj Atwal
Taj Atwal talks law of attraction and living in the end, and tells us why her latest role is the perfect antidote to lockdown lows.
Photography by Joseph Sinclair | Hair by Shukeel Murtaza | Make Up by Justine Jenkins
Life isn't exactly going swimmingly for Taj Atwal's latest character, Roxy. Having spent her life believing that she is unable to have children, she finds herself pregnant, only to be told by her long-term boyfriend that he no longer wants to be with her. As if that weren't stressful enough, her lottery syndicate believes it has been robbed of a winning ticket. Nevertheless, Taj thinks that this latest series of Kay Mellor's The Syndicate is pure entertainment – in fact, the perfect antidote to lockdown lows. "I know that the way I am describing it sounds heavy, but the way that Kay writes is so salt of the earth," she explains. "There are so many poignant, so many funny moments in this whole thing. And at the heart of it is this set of characters who absolutely stick by each other through thick and thin. There is just so much fun in this journey. I am hoping that after this lockdown, people are just going to be looking for something exactly like that."
Taj first worked with Kay when she played nervous young mum Jasmin in comedy-drama In the Club. Knowing how she worked, the writer approached Taj about playing this part when the scripts were still in development. "She sent them to me and said, 'Look, there's this character Roxy, and I really want you to play her… Have a read of the scripts'," she recalls. "I think that as an actress it is always flattering to be given the choice of whether you want to do a job or not. That is what I strive for at least, to have that choice."
This was, of course, pre-Covid, but Taj believes that some sixth sense was responsible for her accepting the part. "I was also asked to go back to Line of Duty [she played PC Tatleen Sohota in series five of the cult hit], so I had a couple of options. I feel like subconsciously I knew that something was going to happen though, because I wanted to do a project that was really warm, loving, wholesome…" she explains. "I loved the script. I think it was just what my soul needed at the time."
It was, Taj says, everything that she thought it would be and more, despite being a distinctly unusual filming experience. "We were meant to start when the first lockdown happened, so we just delayed the shoot. Then we started as soon as lockdown was lifted. But we were filming in Leeds, which went into its own local lockdown the first week that we were there," she recalls. "We didn't see any of our family and friends pretty much for four months straight, on top of the previous lockdown. But weirdly, it was just the most amazing experience that I have had. I think we knew subconsciously that we had to make it work. You just have to find the joy in it – and we all tried that bit harder to do that. And when we went to work it just felt incredible because we were at work and we were so grateful to be working, and luckily, we all got on," she laughs.
The events of the last year have hit those in the arts sector hard, but Taj has been lucky to have worked pretty much throughout. "To me, it has felt like I have always been working, because if I was not acting, I would be writing, and if I wasn't writing I was doing a voiceover. So, I am thankful that there is always something that I can put my mind to," she explains. The writing in question is a film, but at this time Taj isn't really able to reveal too much about it. "I haven't got the full green light yet," she apologises. "But I am working with some fantastic people, and I am hoping that it will go ahead, and then hopefully I would like to write a series for it as well."
Though she loves writing, she admits that it does not come as naturally as acting. "Writing is kind of a love/hate thing. A labour of love for me – I have to try and force myself. Acting feels way easier. As soon as I am in that world it just feels like home and it is so natural. Writing is a bit more of a practice, but I will get there."
While work has been happening, social distancing and restrictions have meant that physical auditions haven't. "It has been so long since I have been in the room now, because of Covid, that I will probably be terrified when I go back," she admits. "I always used to be, but there was this interview that Bryan Cranston gave, and he said that you should go into the room prepared, but prepared to work. It is a working environment; you are there to work the script and discuss. And I can't remember exactly what he said, but it was something like that, and it made me chill out so much more, and realise that it is a two-way situation, and that there is nothing to be scared of, you are just going in there to explore the character. And that really took the pressure off a bit."
That first, post-Covid audition can wait a little longer, though, as Taj already has her next project lined up, a cross-cultural rom com directed by Shekhar Kapur. "It's a film called What's Love Got to Do with It? with Lily James and Emma Thompson and Shazad Latif, and it is an absolute joy," she tells me. "It is another really uplifting story that I cannot wait for people to see. I am all about the uplifting stuff at the moment."
While filming of The Syndicate was postponed during the first national lockdown, the industry has now found ways to operate within the restrictions, and work is just beginning on What's Love Got to Do with It?. "I got to meet the cast playing my family the other day – we got to do a photoshoot – and, again, I feel like everyone is just so grateful to be working, and it is just such an amazing, positive, loving environment – minus the million virus tests a week," Taj jokes. "I am having four this week, tomorrow will be my fourth; I'm not sure that I have got any nose tissue left. When I first started having them, the swab was excruciating, but now they put it straight in, and it goes right up, and it comes out and I don't even feel it!"
All the tests in the world will not bring theatre back just yet, though, and this is something particularly close to Taj's heart, as she is patron of Theatre@41, a creative hub and performing arts centre found in the heart of York (where she went to college). "Theatre is an integral part of communities," she tells me, explaining why she became involved, "and especially the theatre that I am a patron of, because it is for the people – for people with disabilities, for people from backgrounds where you wouldn't normally be able to get into theatre, so to speak. And I just think it is such an integral part of each community and area, and I think it is essential to have something like that. As an outlet."
So, what are her thoughts on the current closures? "It is so tricky," she sighs. "I always like to live in the end, and I always have high hopes for pretty much everything, and I see there being a silver lining. It is nigh on impossible that there won't be. People want stories, and they want theatre, and we will have to open up again, and we just have to stay committed to that. Being vocal about it."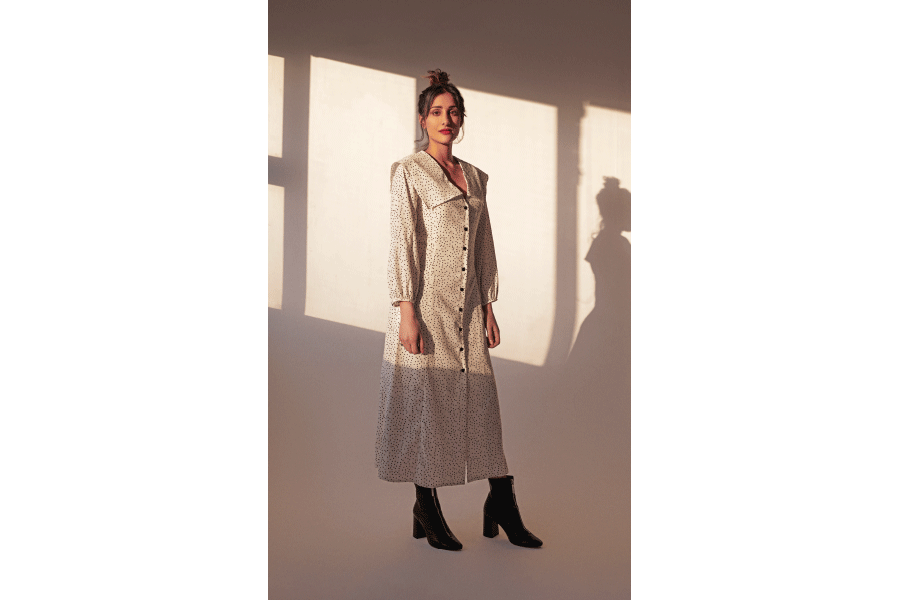 This positive mental attitude seems to be serving Taj well – indeed the only things currently keeping her awake at night are the naughty London foxes who have burrowed under her garden and are up to mischief at ungodly hours of the morning. "They are so noisy. They start at like four in the morning. Like, wow! Do it at a decent time, at least!" she laughs.
Her happiness is infectious. "Sometimes the world can be difficult, and finding some happiness is a big achievement, especially this year," she tells me. "God there's been days I have wanted to give up, and just not doing that and having the courage to carry on, that's a big achievement." So, what helps her to carry on? "Maybe just finding the small joys in things," she explains. "Starting small – a beautiful flower. Or some days I will come across a stranger who has just been so loving and kind. Or having a little sing song in the bath. It's the really small, mundane things like that that make me really happy," she grins.
This happiness undoubtedly comes from feeling secure in herself, and for that, Taj credits inspirational writer and speaker Abraham Hicks. "The crux of what she speaks about is law of attraction, but really it is about your inner guidance," she explains. "Coming home to yourself, and trusting that you are always supported and loved, universally. That you always have an inner love. And I always, always, always turn to her YouTube videos any time I need any kind of guidance, or anything like that. I would say that she really inspires me. If you ever feel that you need a little bit of a positive boost, watch some of her stuff on YouTube. She is just absolutely amazing, and I have transformed my life listening to her. She is someone that I would love to meet one day," she smiles.
Right now, what would make Taj even happier, she says, is a sunny picnic with a big group friends – and no requirement for any kind of social distancing. "I love nothing more than going for a picnic," she exclaims. "The amount of picnic baskets that I have got that I've never even used. That I bought before this all happened… I just want to go for a picnic with loads of friends, and drink loads of Champagne, and get pissed in a London park – we are lucky to have so many green spaces."
Taj really does feel fortunate to live here. "Luckily, with life and work, I have travelled pretty much everywhere, and I always come back to London," she reveals. "Even now, there is always something going on. There is always some place that I haven't been, or that is new to discover. And I have been here for so, so long, and there are still places where I'm like, 'oh, I haven't been there before', or 'that's new'."
Picnic aside, how would she spend a perfect unrestricted day in London? "There are so many gorgeous boutique local coffee shops, so supporting a little business like that, getting a coffee and a croissant; going to one of the many markets; going to a museum; walking along the South Bank; seeing a play; just sitting out on one of our green spaces…" she sighs. "So simple. We'll be able to do all of those things again soon, I can feel it. We will!" Taj's positive attitude must be rubbing off, because I'm starting to feel it too. Better times are coming. 
The Syndicate will air on BBC later this month