Exclusive Interview: Martin Compston
As the BBC's Line of Duty returns for a highly anticipated fifth series, we caught up with Martin Compston to talk acting, accents and accepting when things are not going to work out.
There are two things that even the most die-hard Line of Duty fans might not know about Martin Compston, who plays DS Steve Arnott. Firstly, that he used to play football professionally, and secondly, that he was born and bred in Greenock, Scotland. Fooled by that London accent? You're not the only one. It was, apparently, honed through hours of listening to podcasts while walking the dog; but how does he keep it up? "It can be tough," Martin admits. "There is so much jargon, and you really have to be on top of the dialogue because Jed [Mercurio, who writes the show] can suddenly change lines, so you really need to know your stuff. But, as much as it can be a hindrance, an accent can be like a good costume, you know? As soon as I do that voice, I hear Steve."
I'm catching up with Martin while he's in London promoting the latest series. He may no longer live here, but he is very pleased to be back. "It is a great city, there is just always something going on. One of my favourite places in the world is Soho in the summer. I love people watching – just sitting outside the Groucho on Dean Street with a wee glass of wine and watching people go by. I remember, one of the first times I came to London was to visit my cousin when I was about 17, and I remember sitting in Leicester Square and watching, and thinking: one day I would love to have a premiere here – and I have been lucky enough to have a couple there now. That is a great buzz," he says, smiling broadly.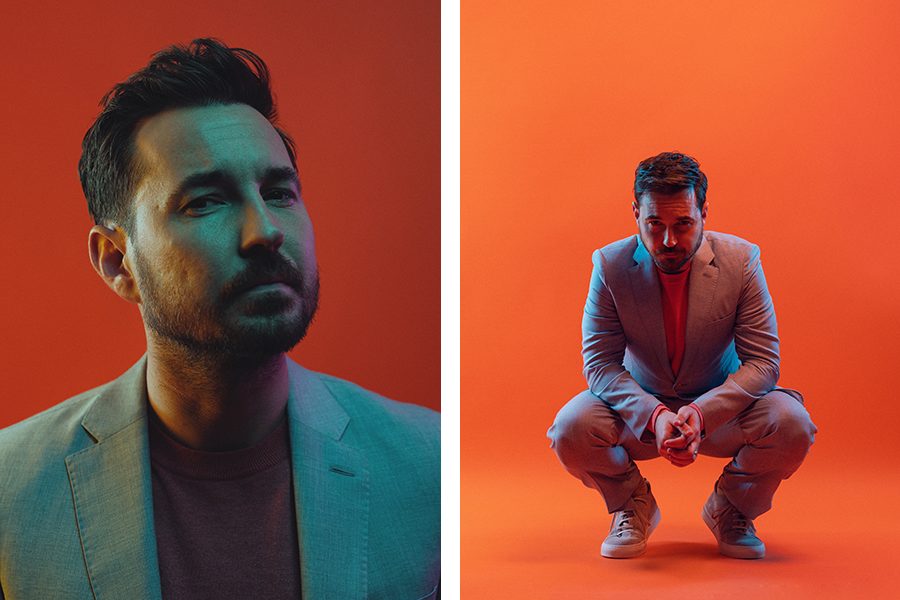 While Line of Duty might not be the big screen, it is big news. When the first episode of series five –which has been moved from BBC2 to BBC1 this year – screened last month, it was watched by 7.8 million viewers, making it not just the most-watched episode in the history of this police drama, but the most-watched show of 2019 so far. Martin says he had no idea that things would get this big. "I thought that the scripts were phenomenal and looking at the people they were getting involved, I thought it would be good, but I didn't think that it would be a hit commercially… The storylines are quite complicated, and I didn't know whether people would stick with it."
Stick with it they have, and Martin thanks his lucky stars that he is playing a part in the show's success story. "When I got offered Line of Duty, I got offered a film role at the same time," he tells me. "At one point the schedules were clashing; I was leaning towards the film (if it came to one or the other), but luckily they made it work that I could do both. I do have the odd nightmare moment where I think: what if? You know? That would have been devastating if this thing was going on for so long and it wasn't me that was playing Steve Arnott."
It is, he says, his favourite role to date, and he considers the work he has done on Line of Duty to be among his best. "I do love playing Steve," he nods. "But I think a lot of that is to do with having such a fun time on the set with the guys." It certainly makes up for having to spend months on end away from his home and his wife, American actress Tianna Chanel Flynn, in Las Vegas. "We were just over four months filming the last series, with rehearsals and stuff beforehand. It's not like I can just nip over for the weekend when I have a bit of a break, so it's tough," he tells me. "But you just realise that you need to focus on the job."
This particular cloud has a silver lining, because being in the UK does allow him to spend time with friends and family back in Scotland: "I can go to Greenock, and see my folks and all the friends who are still there, so it's not too bad," he grins. And then there's being able to watch his beloved football team in action – Martin is a huge fan of Celtic F.C. – which brings us back to the question of what exactly persuaded him to ditch the pitch in favour of a career in front of the cameras? "Because I wasn't really a very good footballer!" he laughs. "You know, I loved the time I spent playing, and I don't want to be negative about these things, but it was playing Scottish First Division football, and I think that was probably the highest I was ever going to get. I am 34 at the minute, and I am still a relatively young actor, but I would be coming to the end of my career as a footballer. I was never going to get to play for Celtic – if I could've done that, then maybe it would've been different."
In 2002, having never acted before, Martin successfully auditioned for the lead role in Ken Loach's Sweet Sixteen. He was consequently nominated for, and won, the Most Promising Newcomer award at the British Independent Film awards. How did it all come about? "I have always loved films, but I never really thought about it seriously," he tells me. "A big moment for me was when I saw My Name is Joe by accident. I was on a double date with a pal of mine, and I can't remember what we were actually planning to see – I think probably some big franchise film – but that was the only thing that we could get into. And it just changed the whole way that I viewed cinema, because I could see on this big screen people who spoke like me, and I could recognise the characters. And then, the very next year, Ken Loach was casting at my school for the follow-up, and it was just maybe a bit of fate. If I had never seen that film, I would never have thought of going. As it was, I thought: I loved that film; I can do it."
Though his CV is testimony to his success over the years, that early bravado at audition has abandoned Martin somewhat. "It is terrifying. I mean, I have been doing it for 16 or 17 years now, and if anything, it just gets worse! It's a very hard thing to have to walk into a room full of people judging you," he explains. "And it can be a buzz when it goes well, but it can be a real downer. You really work for it. You can spend days and days on something and then not hear anything back. That can be quite frustrating… You realise that you just need to get up and get on with the next one because you will get rejected a lot more than you get accepted in this industry. That's a fact. You will lose a lot more jobs than you get."
In terms of his tally of jobs lost to jobs won recently, Martin couldn't be happier. "It's been a good year: a couple of decent films out, the show is going well…" he grins. "And I have got a couple of scripts in at the minute that I really, really like, so hopefully that will come together, but I'm a wee bit superstitious until the deal is signed and sealed," he tells me, refusing to give any further details.
What about Steve, will we be seeing more of him? "There has been another series commissioned, but we don't know who will actually make it to series six, you know?" he tells me. Is he hinting that DS Arnott may fall foul of the Balaklava Gang before the end of the current series? "Anybody can go at any time," he shrugs. "But Line of Duty will be there for sure for series six." If you know the answer to that one, don't spoil it for the rest of us!
You can watch Line of Duty on BBC iPlayer