Exclusive Interview: Cush Jumbo OBE
Born to Perform.
Cush Jumbo talks taking tea with the Queen, managing motherhood, finding headspace and channelling the courage to tackle career-defining roles.
Photography by Danny Kasirye | Styling by Anna Hughes-Chamberlain | Hair by Tanwa Oluwole | Make up by Lucy Patchett
Cush Jumbo has not had a bad pandemic, all things considered – though she worries that this sort of comment could be taken the wrong way. Back in the spring of 2020 she was packing up her life and heading back to London after five years spent living in New York with her husband and son while filming The Good Fight. The plan was to go straight into rehearsals for Hamlet at the Young Vic. As we all know, plans went awry. "The theatres closed, but then suddenly my screen work piled up instead, because we were still able to shoot," she explains.
Once the industry worked out how things could be done safely – with regular testing, masks on set and production bubbles – filming projects were able to resume. In this way, The Beast Must Die was filmed on the Isle of Wight during the second lockdown last year. Cush plays the lead in the drama, which is now streaming on BritBox. Recalling that time, she tells me: "I feel like in the middle part, the loss of jobs started to kick in, and it was very evident what was going on with the NHS, and it was really difficult for everybody, so I think that we were really lucky to be away, especially somewhere as beautiful as the Isle of Wight, and to be able to just take a breath and get away from the stuff that was going on."
The series tells the story of Frances, a single mother who tragically loses her very young son in a hit and run at the beginning of the show. "That is where we find her, and she kind of goes on a revenge mission, to seek out the person she suspects has done it, and to murder him," Cush reveals.
"I was looking for projects that really excited me, and it was by far one of the best scripts I have ever read. Just in terms of the pace, the psychology of it, and how gripping it was. I couldn't put it down. Although it sounds quite dark, it is also very, very entertaining, and twisty and turny. Half of my time is spent acting, but the other half I am watching stuff, like everybody else, and it just seemed like the kind of thing that I would like to watch."
That said, she hasn't watched any of it yet, and she has no plans to do so any time soon. "I think unless you are incredibly vain, it is human nature to find it very strange to watch yourself. And I'm a bit of a perfectionist, so I tend to be over judgemental about the wrong kind of things," she tells me, explaining why she always needs to put distance between herself and a performance before watching it. Instead, she has learnt to feel when something is going right, and to trust that innate feeling. And her husband has had to "learn to deal with being a year behind" when it comes to her most talked about projects.
Of course, theatre is different, and there is no doubt that he will be among the first to see Cush's long-awaited debut as Hamlet at the Young Vic in September. And she could not be more thrilled that the project is finally coming to fruition. "It has been nearly two years to get it on now, because the first time round it clashed with a lot of other work, and then Covid happened, so it has just felt like the crest of a wave almost. Rising and falling – I've been really, really close to doing it and then, nope it's not going to happen, and then really, really close… I think, for me, being able to do it now, as theatres are reopening, it is going to take on a whole new optimism," she tells me, happily. "Just the very fact that audiences will be able to come back, and that people's jobs will be able to restart, that gives an extra level of excitement to the project. I think it will strangely feel like the show is even more fulfilling than if I had done it the first time around."
Though it has been a long time coming, Cush does not yet know a great deal about how the play will be treated. "As you probably know, theatre works a little differently to film," she explains. "You can only map out so much – maybe a bit of your design, a bit of your visualisation of it. I have worked very closely with Greg [Hersov, the director], and with Kwame [Kwei-Armah, Artistic Director at the Young Vic] over the last year, but you know, most of your show comes from rehearsal. The only thing that I know for sure is that I am playing him as a him."
Cush tells me that she "discovered Shakespeare really deeply," while studying at the Brit School, adding. "I found my way to the business through the theatre. Which is why I guess I find myself pulled back there all the time. I have known for a few years that Hamlet was something that I was going to want to do." The time had to be right, though – Cush strongly believes that any performance of his work needs contemporary relevance. "It is quite pointless doing any kind of Shakespeare unless you know what the point of doing it is," she explains. "Hamlet is all about a rotten State. A situation where the elite are out of step with the people, and somebody is born into the middle of this and is quite confused by it. So, it is about the coming generation, and Greg and I both found that idea really interesting in respect of so much that has happened over the last few years, socially and politically."
On a more personal level the time felt right, too. "There are always going to be reasons why you are going to be put off doing certain projects, through fear," Cush admits. "It might be that you are afraid of working with 'that' actor who you feel is way out of your league, or there are too many words to learn. Whatever it is. And with Hamlet it is like everything. The whole thing. And on top of that you have got so much history and there is so much hanging over it in terms of what people think it should be. I honestly didn't really feel brave enough until, actually it was after I had my son, who is about to turn three. There was something about going through that pregnancy and coming out the other side of it. Maybe it's just pushing a human being out of your body and thinking, f**king hell, I can do anything – what exactly am I afraid of after that?" she exclaims.
I wonder how she is coping with managing career and family life. "Oh yeah, it is so easy: It's a piece of cake! What is everybody complaining about?" she jokes. "I think what I have learnt is that everything costs something," she adds, more seriously. "I do not prescribe to this idea of the perfect mother, or the woman who can do everything. It is literally impossible, and the pressure that you put on yourself is not sustainable. Sometimes I can give 100 per cent to being a mum and being around and present, and at other times, when I'm working, I can't. But if I concern myself with the mother part of it then I am not going to do my job properly. And it is the same when I am writing, or when I am travelling, or having to do other things for work. But ultimately, I feel like working allows me to be more of a whole person, and the more of a whole person I am, the better mother I am."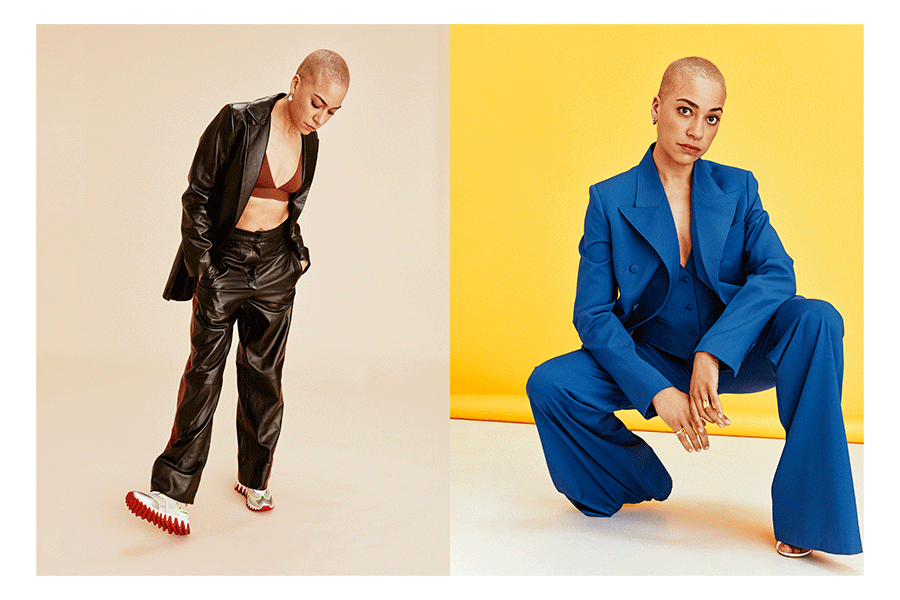 Cush is reassured by her own childhood experience. "My mum was a working parent, but the time that she did spend with me, those are some of my strongest memories. The things we would do together and what we would talk about and where we would go. That is what you remember," she recalls. "And my strongest feeling when I look back is that it was kind of inspiring to me that she went out and did what she did. And people admired her at work. I remember that really clearly."
She hopes that her son will admire her in the same way; it is hard to believe that he won't. Cush's critically acclaimed work saw her awarded an OBE for her services to drama in the Queen's Birthday Honours two years ago. "It was absolutely amazing," she tells me, recalling the ceremony. "A true honour. And the Queen, God she knows her stuff. She is sharp as a tack and she knew everything about me when she was talking to me."
The recognition means a lot to Cush. "I am born in London – I think of myself as a British person, a black British person, and there are lots of different emotions rolled up in that, because you are multi-layered in terms of your background and where you come from, but also, who you are," she explains. "Having those letters after your name, I have never seen as anything other than a positive, because it just means that more people who come from my part of London, or grew up where I grew up, or look like me, look at me and think, well that's a real achievement, maybe that's something that I could do. There is no reason why, just because you are born in one part of London, you can't make a success of yourself in any area if you apply yourself. And it means that people listen to you when you are wanting to talk about or support important causes. It is a lot harder for them not to reply to your email when you have got an OBE!" she grins.
The OBE might have been a highlight, but it is in no way the pinnacle of Cush's career. She is currently filming a new Netflix adaptation of Harlan Coben thriller Stay Close, after which she will go straight into rehearsals for Hamlet. "And there are other things after that, but to be honest, right now I cannot think past it," she admits. "Because I think you just have to give yourself over to it and not think about what comes after. We'll see if I have arms and legs left by the end of the year. I think that if I can get to Christmas, I will be OK!"
That said, she is still managing to find time for writing. "I have just been finishing a play for Audible, who have a theatre arm now," she tells me. "So, I have been working on something with them. And also, I am quite interested in devising some children's theatre, so I have been doing some bits and pieces of that in between, because, as I have been telling you, I have so much time on my hands!" she laughs. "I am jam packed with ideas – I can barely get them out. So, when I do get a pocket of time, I like to sit down and do a bit. You know, no pressure on myself, I just do it when I can, and it gives me a little bit of headspace."
Cush's passion for the arts is clear – this is undoubtedly what she was born to do. "I have been on stages for as long as I can remember," she confirms. "I was definitely an attention seeker – I am one of seven children, and there is never enough attention to go around, so maybe, even subconsciously, I was absolutely loving that people thought I was good at something and wanted to come and be in the front row," she smiles. "But also, I always really loved language and poetry, and writing stories and telling stories, and that kept going and going through my younger years. You know, writing shows, and poems and songs… So, I guess it all rolled into one. I really, really enjoy pretending to be other people, and taking on another skin, becoming somebody else. This is all I ever wanted to do for a job, to be an actor. I mean, with a name like Cush Jumbo I don't know what else I was meant to be!"
The Beast Must Die is streaming now on BritBox