Interiors Special: A Home for Life
Self-building needn't mean donning a hard hat and labouring for long hours on site, we explore the different ways of bringing dreams to life.
Buying property often involves making compromises – you may have a clear idea about what you want from a dream home, but it's usually impossible to find all of this in the perfect location, within budget. Rather than accepting that something has to give, a growing number of Brits are choosing to build bespoke; creating a home that is customised to their lifestyle requirements, in a location that they love. While the idea of starting from scratch might sound daunting, with the right experts on hand to help, it needn't be. We find out how three couples realised their dream homes.
The restoration project
Elizabeth and Ian had fallen in love with a dilapidated listed 18th Century Watermill, near Swindon, and had their hearts set on restoring it to use as a second home.
It was a challenging project – nobody had lived in the mill since it had stopped operating in the early 20th century; the building's foundations were just four cornerstones, and it had suffered 100 years of water ingress and neglect. Having extensively researched the history of the Grade II listed building, preservation was high on the couple's agenda. Working with the architects McLaren Excell, they drew up designs that incorporated many of the original features and the mill's machinery, including the original waterway that flowed into the house, and incorporated a modern extension to increase the living space.
They contracted HNB Construction Services Ltd to tackle the challenging build. Director Anthony Nicholls explains: "Our first challenge was tackling the extensive and well-established water damage. A comprehensive water ingress and damp proofing plan was necessary, followed by shoring up the structural integrity of the saturated building before any further work could be done. Ironically, the client didn't want to disturb the ancient watercourses that still flowed through the building. This meant the mill retained not only its most iconic natural feature, but that local ecology was not impacted."
When managing projects of such complex nature, specialist construction services and knowledge are invaluable. Anthony tells us: "Working with Historic England doesn't mean that clients have to be limited. In this instance we added a modern extension that retained a real sense of the original building; original brickwork, stonework, timbers and steels were used where possible, and our team scoured reclamation yards for matching additional materials to work with the mill's exposed machinery, cogs and cast-iron axles."
The extension had no heritage constraints, so Elizabeth and Ian were able to utilise modern techniques to manage the building's temperature. A slatted brise soleil screen was added to the extension façade to help shade the bedroom in the summer, and under-heated polished concrete floors provided an efficient and low energy way to add and manage warmth; the thermal mass of the concrete floor improves natural insulation throughout the entire building so that heat is retained in the winter while remaining cooler in the summer months.
Lower Mill is a fantastic example of a unique self-build project that lovingly revived a historical building creating a London couple's weekend bolt-hole in the country.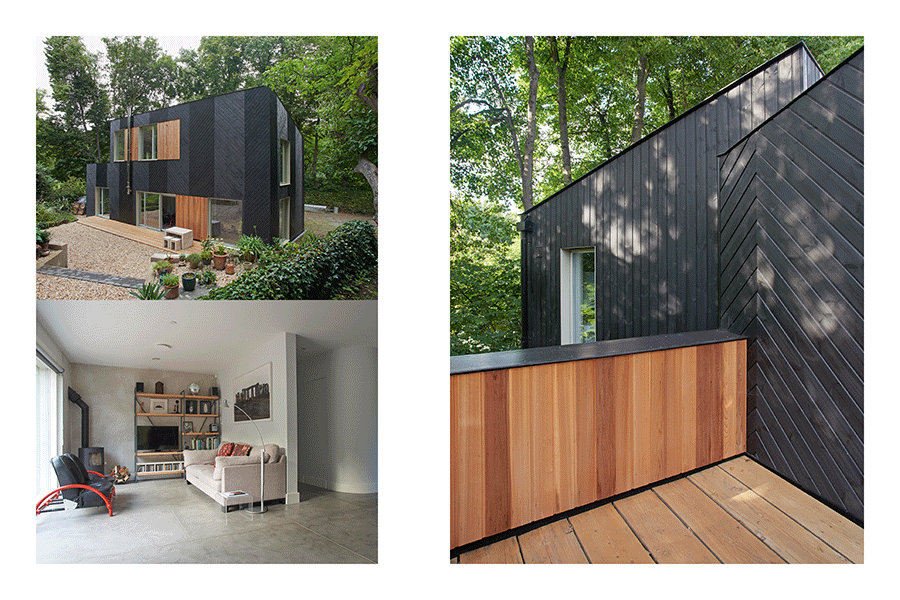 The digitally fabricated home
It was Terry and Mickey's dream to build a home on land they owned behind their London home, and after learning about Facit Homes on an episode of Grand Designs, they approached the team to discuss how they could work together to make this a reality. Originally, they had wanted to build on top of the studio that was built for print maker Mickey on the land soon after they bought the house in 1991. However, the two buildings would have been very different, both in construction and performance, so after much discussion with the team at Facit, it was agreed that it would be better to knock the studio down and start again.
Facit Homes use digital manufacturing technology to create individually designed, high performance homes – it is a unique approach that offers certainty from the very start, with the team managing every stage of the build. In this case, Facit worked with Terry and Mickey to understand what they wanted from the house, discovering how they would use each room and learning more about their lifestyle. It was important that the house had architectural merit and sat well in its environment, in particular the park which it sits beside. Plans were drawn up for a two storey, 2,300 sq ft home comprising a large studio room and separate study on the second floor along with a second bedroom, and a master bedroom and spacious living/kitchen/dining room on the ground floor.
As Terry and Mickey would be spending most of their time in the studio, it made sense for that to be the room with the best view. A spot under two lime trees was chosen, and the decision was made to clad the exterior in a timber rain screen coated in a dark stain to reduce the visual impact of the building from the park and minimise the need for ongoing cleaning caused by the dark coloured sap released from the trees. George, Facit Homes' architect explains: "Finding an inner-city site which feels like it is in a woodland setting is rare. This proved to be an exciting design challenge and gave us a great opportunity to create a home that was distinctive, striking and integrated with a unique landscape setting."
The build was designed to make the most of solar gain to heat the house during the winter months, while the mature trees to the south of the property provide shading from direct sunlight during the summer.
The new home is much lighter than the original Victorian property, featuring bigger south facing windows and a largely white or light grey interior to enhance the airy feel. Terry has asthma so the new home is carpet and curtain free with a composite concrete tile floor, thus reducing dust.
The turnkey home
Michelle and Russell purchased their house on a plot of land in Highgate in February 2017, knowing that they wanted to knock it down and start again, but understanding very well that it was extremely tricky to get approval on planning applications in this part of London. With this in mind, the couple knew from the outset that they wanted to work with the Octagon Bespoke team on the build of their new home – they had previously worked with the company, which provides a bespoke house building service handling everything from concept through to delivery, on a house only a few hundred metres down the road.
Russell comments: "With such a complicated and sensitive build on the horizon, it was imperative we had the best team working on the project, and the quality of build synonymous with the Octagon name is second to none.
We knew what we wanted from this house – we wanted somewhere big enough to host our families, with an expansive living area for entertaining, without creating a soulless edifice."
The couple spent a year working with various architects in order to find somebody capable of creating a design likely to appeal to Haringey's planning department. MCMa architects stood out, and they were challenged with designing a contemporary house within the arts and crafts idiom. Planning permission was granted for their design for a contemporary 5,300 sq ft detached, three-storey residence in May 2018.
The existing cottage was knocked down in late 2018 and building work began in early 2019 with architects, interior designers, landscape architects and the developer working together to achieve the brief. The result is a light-filled home with five en suite bedrooms. In the huge living/kitchen space 12m wide floor-to-ceiling sliding doors allow for a seamless transition between indoors and outdoors, showcasing the beautifully landscaped garden. The house also boasts a utility room, pantry, study and cinema room.
Michelle explains: "Building your own home is obviously a massive job, one that can at times be extremely stressful, but it was an absolute joy and pleasure to work with the whole team – we loved it."