Interiors: Celebrating Sustainability
It's an interiors buzzword, but real sustainability – not just the performative kind – can be found if you dig a little deeper. Here, we celebrate the brands that go the extra mile to be planet-kind.
Maie
Founded in 2021, this young design studio aims to empower mindful consumption in interiors. Coinciding with the recent opening of a Notting Hill pop-up, the brand's launch product is The Coffee Table (above), a sleek and contemporary sculptural statement, which is fashioned from natural stone and made up of two sharp-angled pieces. In keeping with MAIE's slow living philosophy, the tables are made-to-order, crafted locally, and produced with minimum waste – expect to receive some beautiful home accessories repurposed from offcuts with your order.
From £1,890 (maieliving.com)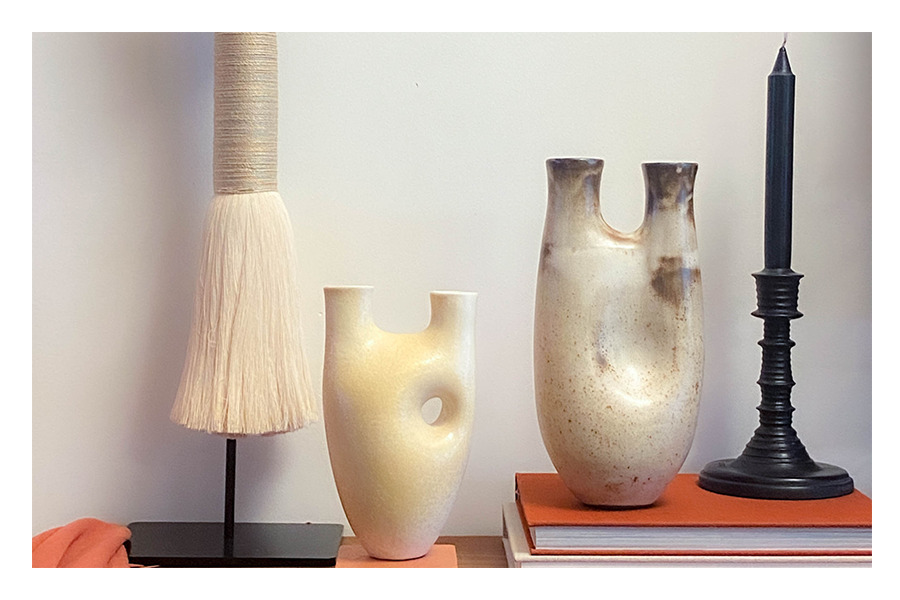 Revolution of Forms
This online shop is the brainchild of Raffaella Goffredi, whose passion for crafted objects was further cemented during an inspiring trip to Mexico in which the designer met with talented artisans. The brand sources ceramics, glassware, textiles, and home accessories produced from natural or recycled materials and made with traditional techniques that do no harm to the environment or the maker. London-based ceramicist, Lucia Ocejo has created a series of bespoke vessels for the brand. Titled Earth and Water, the range explores her nomadic trajectory, using British techniques while honouring her Mexican heritage.
From £280(revolutionofforms.co)
Nanimarquina
Re-Rug is a new collection of chic, homely carpets fashioned from the mountains of leftover wool generated from Nanimarquina's suppliers. Committed to offering more sustainable rugs, the brand worked closely with their artisan makers to produce a recycled yarn suitable for weaving. Each Re-Rug, made with the hand-loomed dhurrie technique, uses one kilogram per square metre of reprocessed wool, which has been shredded, mixed, and colour matched. This directly helps to reduce unmanaged waste, and with no virgin materials used in producing the yarn, the brand is offsetting its carbon footprint with reduced CO2 emissions.
From £1,240 (nanimarquina.com)
Ethical bedding
A brand that wears its eco-credentials on its sleeve, Ethical Bedding aims to make a positive impact on the environment with 100 per cent organic sheets, duvets and pillows crafted from eucalyptus silk, a luxurious vegan alternative and one that's reassuringly Earth-kind: the eucalyptus trees are grown in biodiverse, FSC-protected forests, using 95 per cent less water than cotton. But the focus isn't only on materials. The brand is partnered with The Vegan Society and WWF, and is part of 1% For The Planet, meaning at least one per cent of Ethical Bedding's annual revenue goes to global sustainability initiatives.
From £29 (ethicalbedding.com)
Abigail Edwards
This renowned wallpaper designer revisits her signature Seascape design with a new environmentally friendly collection, Eco. Edwards' calming, hand-drawn wave pattern now comes in a non-woven substrate made from 99 per cent renewable raw materials. Not only that, but polyethylene fibres have been replaced with renewable, plant-based fibres, meaning the wallpaper can now be recycled along with our food and garden waste and turned into compost when it comes to the end of its life. Choose from three nature-inspired colourways: Moonlight, Midnight, and Solstice.
£103 per roll (abigailedwards.com)
Toast
It may be a big name in fashion and interiors but there's not a whiff of mass production in TOAST's offering. In fact, the brand has sustainability at its heart, with a long-term commitment to supporting traditional crafts and techniques, collaborating with like-minded artisans, mills and weavers from around the world. True to form, the new House & Home collection features intricately hand-stitched Kantha quilts, arty screen-printed textiles, and rustic earthenware complete with organic makers' marks.
From £18.50 (toa.st)