At home with: Joyce Misrahi
We go through the keyhole and into the home of philanthropist Joyce Misrahi
You'd never guess that this sleek, contemporary interior with its impressive art collection was created to meet the needs of a lively family of six. But Joyce's stunning period home in St. John's Wood is living proof that you don't have to sacrifice aesthetics for practicality
Behind the elegant 19th century facade of this double-fronted villa in St. John's Wood lies an unapologetically 21st century interior. Clean contemporary lines, light-flooded spaces and a neutral palette with pops of vibrant colour from a jaw-dropping art collection create a sense of order and calm. So it comes as something of a surprise when Joyce mentions that this serene environment is actually home to a family of six.
"We have four sons, so I wanted a home that was not only contemporary but also adaptable. I didn't want things to be so precious that my kids couldn't run around or have their friends over," she explains. "I definitely wanted a space with a strong sense of design, but at the same time one that was liveable in."
The original property
When Joyce and her husband bought the house they only intended to have cosmetic work done. But their plans were derailed when they discovered that the woodwork was rotten. "We had to rip everything out – mouldings and woodwork – and completely rebuild the interior," she says ruefully. Working with KSR Architects and Susan White of Iggi Interior Design, Joyce completely refurbished the house and added an extension that opened the house up to the garden. For a house in a conservation area, it was an ambitious project; remarkably, the work was finished in just 18 months. How did she manage to complete such a major transformation in such a short time frame? "I'm pretty decisive," laughs Joyce. "I'd already put a lot of thought into it, this house was an opportunity to put all my dreams into one place and I was very clear about the direction I wanted to go in."
A strong aesthetic
The house has a strong aesthetic that's minimalist but not remotely austere. The open-plan kitchen and living areas are a symphony of grey and white, a soothing colour palette that Joyce chose to create a cohesive sense of space. "Everybody laughs when I say this – my house is fifty shades of grey, even downstairs in the kids' playroom," she says. Grey ceramic tiles by Mosa used throughout the house and around the basement swimming pool amplify the colour's unifying effect.
The art collection
Fifty shades of grey also provide the perfect backdrop for Joyce's great passion: contemporary art. There's a strong irreverent streak to the collection: the family room features an animal sculpture by Robert Bradford created from recycled toy parts, while the female torso by Cat James in the living room is covered with découpage from vintage magazines. Adding to the sense of fun is an axe with a Louis Vuitton print handle in a case over the guest loo, with the legend "In case of fashion emergency, break glass".
Her favourite piece, says Joyce, is by Charlotte Hodes, Totem Silhouette. "It's a totem pole made from Venetian glass with beautiful female figures inlayed in gold and silver leaf. When I first saw the piece it made me happy on a bad day, so I knew I had to have it."
Interior design
Joyce worked very closely with Susan White on all aspects of the interior design. "Susan really understood my vision. We went to a lot of shows together – Salone de Mobile in Milan, MAISON&OBJET in Paris – and we sourced the furniture together. It was very important for me to be part of the process from beginning to end and to have as much of me as possible in the house."
The only area of the house where Joyce took a step back from the decision-making was the children's bedrooms. "My sons got to choose the look of their own rooms," she explains. "One is a Chelsea supporter, so his room was designed around his football paraphernalia; another loves Arsenal and is also into graffiti, so I chose a palette that worked with a lot of red and had his name graffitied onto the wall."
The box extension at the back of the house, with its floor to ceiling glass, opened the house up to the garden. With four sports-mad boys, a manicured lawn was out of the question, so Joyce took away as many trees as possible, put down artificial grass, installed a football net and created a basketball court. "It's an entirely practical solution," she points out, when every weekend her four boys each invite three or four friends over. "I'll have 10-15 boys in the house and at least some of them can be playing football, while the others can be playing basketball. Artificial grass means that I don't have to worry about them tracking mud through the house."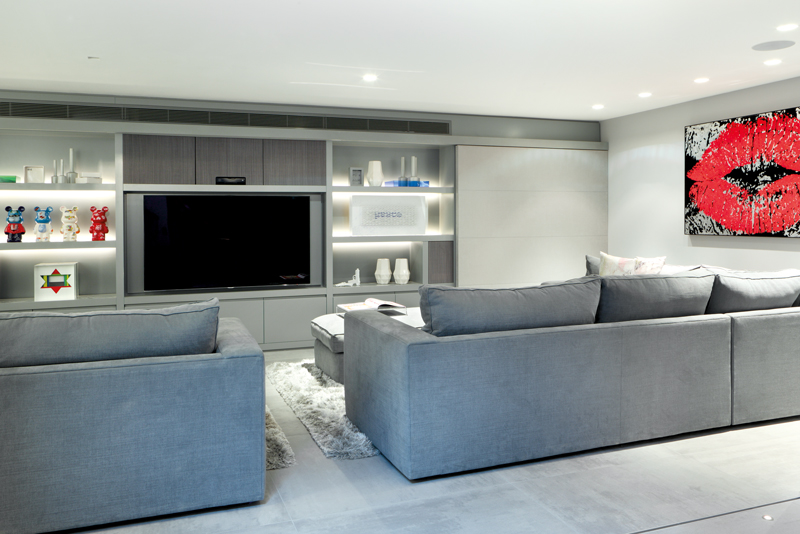 Living in St John's Wood
Joyce moved to London from the States 12 years ago, renting just a stone's throw from where she lives now. So what has kept her loyal to St. John's Wood? "I just love the idea of being able to live in a house with backyard space and still be somewhere convenient with so many things located nearby. I can get into Mayfair, I can get into Marylebone, but I still have the luxury of living in this house with all these kids."
Holiday House
As co-chair of Holiday House, which launches in London this month and is hosted in two properties in Hamilton Terrace, Joyce is forging even closer links with the neighbourhood she loves. Founded in New York in 2008 by interior designer and breast cancer survivor Iris Dankner, Holiday House showcases the work of top interior designers and lifestyle brands and raises money for breast cancer causes. Joyce needed very little persuasion to come on board. "My friend and co-chair Rachel Laxer had participated twice in New York. She knew that I was passionate about art and interior design, and, that as a breast cancer survivor myself, the cause was very close to home. So of course I said yes."
With 25 leading designers exhibiting in two properties, it promises to be a highlight of the interior design year. It's been about a year and a half in the making, explains Joyce. That's roughly the same time that it took to remodel her fabulous house – we can't wait to see what this formidable organiser and design visionary has helped bring to life in her beloved NW8.
Holiday House launches in London at 59 and 61 Hamilton Terrace, NW8. The showhouses, both of which are for sale, will be open to the public from 9 November to 10 December. Proceeds from Holiday House events benefit the Breast Cancer Research Foundation® (BCRF)To book tickets, visit theholidayhouselondon.com