At home with: Emily Williams
It comes as little surprise that the co-founder of interior design studio BradyWilliams should own an abode that's as cosy as it is elegant. Gifted with an abundance of natural light and verdant views all round, the property, which Emily shares with her husband and daughters, is a calming sanctuary in the city.
Photography Julian Abrams
Can you tell me a bit about the property itself?
It's a four-bedroom 1900s house designed by the architect Frederick Llewellyn as his own home. Each room has unique features suggesting the architect was experimenting with, and exploring, different styles. For example, the doors all have different veneers and some of the rooms have exposed painted beams, whereas others have more simple coving with the beams giving an Arts and Crafts influence.
What made you fall in love with it?
We fell in love with the house because it sits quite high up, surrounded by woods, so it benefits from lots of natural light and green views, even though it is still in London. This is something we have worked to reflect in the interiors throughout the house.
What do you usually look for in a property?
Natural light, a garden and fireplaces are the non-negotiables.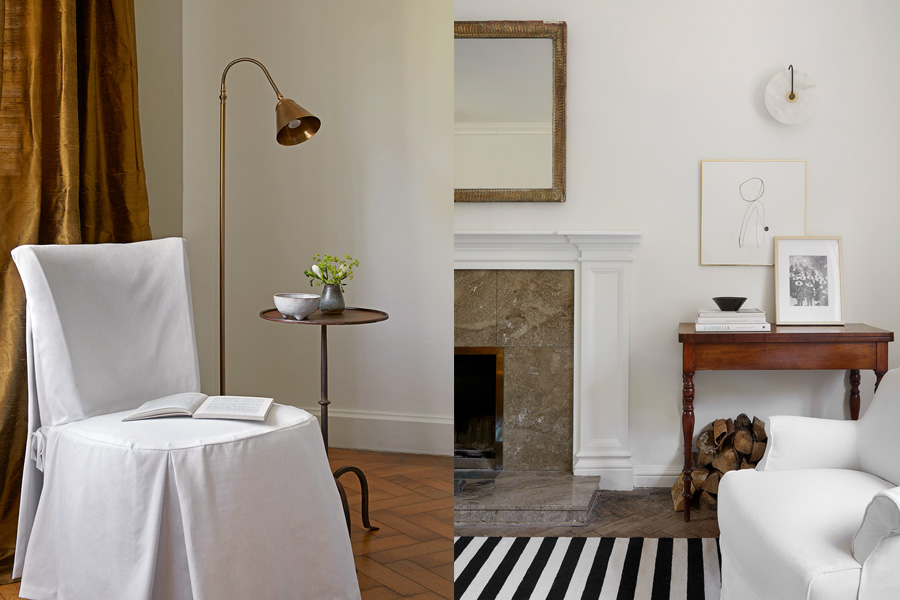 Did you do anything structurally?
As this was to be a family home, I wanted to create a space that reflected the function that was understated and elegant, with a restrained palette and a focus on the interior architecture. So far we have undertaken minor works with the plan to do more next year. I have plans for more significant building but this initial phase was to refresh the interiors with light decoration and new furniture.
How have you personalised the space?
My style is understated elegance. All of our BradyWilliams projects combine unusual one-off pieces, with layered textures and tones to create properties that are calm and luxurious. My home was no different and the period and location of the house has meant we have probably gone for a more relaxed feel than our previous London homes. As always, we have mixed lots of antiques with mid-century and modern pieces.
Are you a keen collector?
Yes, I have a Dunbar 'Long John' mid-century bench by Edward Wormley that was one of my first designer antique pieces and it has worked in so many spaces. Other standouts include an antique mahogany side cabinet with ADA Alabaster wall lights above it in the sitting room. The sitting room also features some brilliant 1970s Low Travertine Triangular Coffee Tables, from Pamono.
How important is character in a home?
Desperately important. Period features and the heritage of a site are always at the core of our inspiration for BradyWilliams projects, across residential, hospitality and retail clients. We believe in embracing any era but what we do to the interior must be sympathetic.
Which room is your favourite?
The master bedroom is a space we truly love. It's a calming, grown-up space that makes the most of the double aspect windows. Through layering different shades of white, we have created a neutral backdrop to the amazing light that filters through the windows. But the guest bedroom is a space where we were able to have more freedom to experiment and play with bold colours. I love the clash of Paper and Paint Library's Leather III with the burgundy leather headboard and muted golds of the billowing silk curtains.
Do you have any exciting projects coming up?
We have lots on both the residential and hospitality front – 2020 is going to be another busy and exciting year for BradyWilliams! Having just completed our fourth apartment at Floral Court in Covent Garden, we are currently working on some beautiful London family homes and pied-à-terres to complete next year. We are also working on our eighth, ninth and tenth projects with Corbin & King, following the successful opening of Soutine this spring. BradyWilliams' first nightclub design is also launching in 2020 and we are looking to expand our retail portfolio following our redesign of the ground floor of Fenwick a few years ago.