At Home With: Carine Ottou
When restrictions allow, this Cameroonian chef runs lively cookery classes and supper clubs from her Victorian terrace. Designer Yoko Kloeden has reimagined the property, putting the concept of a 'cook's kitchen' at the heart of the home.
Photography by Cathy Pyle
There's nothing like 12 months of confinement to test out the liveability of a newly renovated family home. For Carine, who's been locked down for much of the past year with her husband and their two girls aged seven and two, the property is everything she'd hoped it would be – even when it's stretched to social limits. "It is simple," she says. "The whole family can work and study in different rooms and meet at lunch or dinnertime for a beautiful get-together meal. We are still very much happy to see each other. It is an accomplishment." This, of course, has everything to do with the property's considered design, the handiwork of Japanese architect and interior designer Yoko Kloeden, whose residential projects are famed for their mood-enhancing qualities.
The conversion included a comprehensive ground floor extension that has opened up the rear of the house, making room for an open-plan and streamlined kitchen/dining space. The pièce de résistance? A kitchen island on castors, designed to be wheeled directly outside and onto a decked barbecue area, ready for an alfresco feast in which the chef takes centre stage. It is perfect for Carine. "I needed a space that would combine family life with my food activities," she explains. "I wanted an inside-out kitchen and to have extended use of the outdoor space. I wanted my guests to see me cook and to interact while I'm busy… I wanted an open space that would do that." The idea came about during the project's early design phase when Carine and Yoko imagined one continuous table that went from dining room to kitchen to garden – and when the eye is drawn down the centre of these three open spaces you can visualise just that.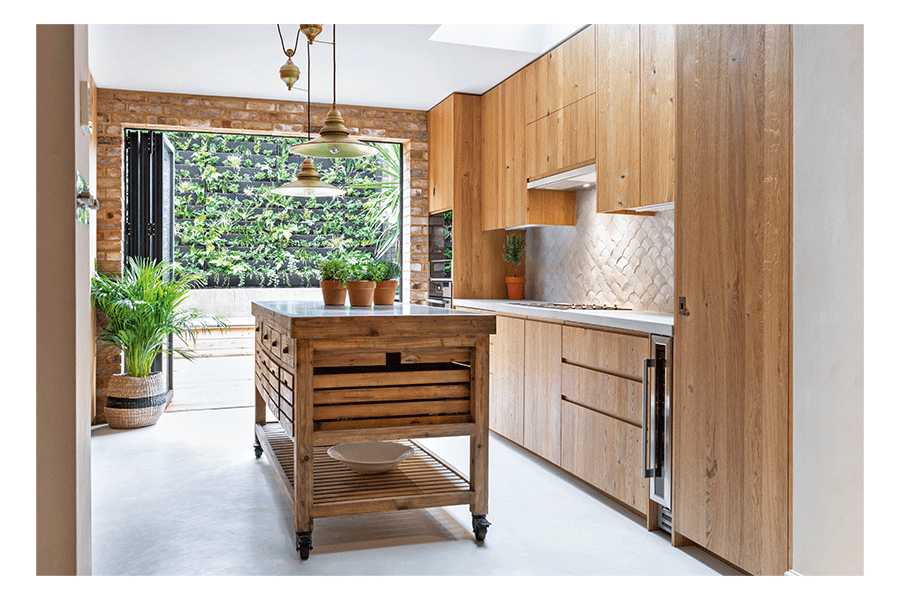 Describing the project as a collaborative process, Carine says of Yoko, "she understood the deal breakers for us as a family – not to mention that we had serious budget limitations. These specifics dictated how the structural designs and building constraints would have to be ingeniously creative to meet our expectations." Transforming a modestly sized dining room into one that accommodates 12 guests is just one example of how Yoko has made deft use of every inch of the property – originally a tight 1,030 sq ft. Here, the designer has teamed an extendable wooden dining table with a custom-made, built-in bench that not only reaches the full length of the room, adding a cosy, casual seating area, but which doubles as a nifty storage unit, too. Yoko wanted this room to be an indoor version of Carine's outdoor entertaining space, creating a seamless, year-round experience that doesn't allow a little bit of rain to spoil the party. In a pleasing symmetry the padded bench, complete with luxurious scatter cushions, mimics its outdoor counterpart, while industrial hanging shelves with trailing house plants sit in front of a dramatic wall of exposed brick, bringing the garden inside.
In an arresting mix of materials that echoes Carine's 'straight from nature' culinary ethos, Yoko has used vintage oak, Belgian lime paint, zinc, concrete and brass, and the result is invitingly homely. "I am a massive fan of all things natural and I love to feel texture," Carine says. "This was something Yoko was able to capture gracefully in the brief." Born in Cameroon and brought up in France, the chef was also keen to draw on her rich cultural heritage and the attention to detail is to be admired: antique pendant lights were acquired in brocantes in France, while decorative masks and mudcloth cushions were sourced directly from West Africa.
The nature-inspired aesthetic continues throughout the property with an earthy colour palette that offers a calming sense of continuity. Carine's living room is a sanctuary with its Scandi-inspired furniture, its raw and rustic wooden pieces and its wholly inviting stone grey window seat – installed by Yoko to give her client a peaceful spot in which to relax and unwind after a busy day in the kitchen. Though the house is predominately neutral in tone, there are a few arresting colour pops: the master ensuite boasts beautiful glazed Zellige tiles in mixed, muted hues of green and grey. Handcrafted and perfectly imperfect, the tiles complement a vanity unit crafted from raw wood, further adding to the earthy, textured look. And in Carine's home office space, a powdery blue-grey paint is used to bring a soothing sense of tranquillity while careful consideration has been given to the position of the desk. Look away from the screen and your eyes are met with a view of the garden's lush living wall.
With spring around the corner, and an end to lockdown in sight, Carine is looking forward to making the most of her modern family home with its convivial, culinary heart. "I feel the look of the house is the image of what I envisioned in my wildest dreams," she says. "It is the indoor-outdoor kitchen that has won me over – to see my kids run around it. These are priceless moments."
Instagram @inspiringchefs and @mariemingle (yokokloeden.com)