The Most Authentic Chinese Street Food in Town 
Murger Han
For a chilly Thursday evening Murger Han's Mayfair restaurant is a warming welcome, once you get past the solider-like statues in the entrance that is. The exposed brick walls, red scrolls and single line of tables feel cosy and quaint, more like a side street in China Town than the bustling hub off Piccadilly. Most of the tables are taken by Chinese Londoners – always the best sign that the food on offer is going to be authentic, and most importantly, full of flavour.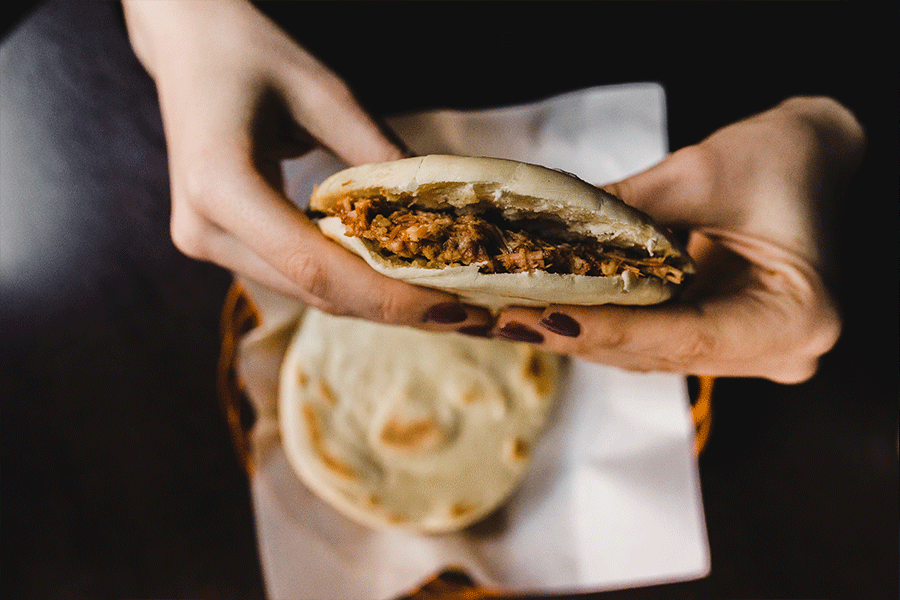 The pandas catch my eye
We are led to a table at the back of the restaurant, right next to the open kitchen giving us an excellent view of the dishes that steadily trickle out; gyozas, soups, murgers (the Chinese version of a hamburger)  and clay pots pass us by leaving mouth-watering smells in their midst. But it is the panda chopstick holders that hold my attention as we first sit down – I am very tempted to take one home with me.
We opt to share the grilled chicken gyoza as a starter, then immediately wish we'd ordered one each. The gyozas are perfectly crisp on the outside and full of flavour on the inside. With our appetite well and truly wetted, it's time for the main event.
12 feet noodles
Murger Han Han has a few signature dishes; my choice is the hand-pulled Biang Biang noodles. There's a reason why I hadn't seen a noodle this big or wide before – each noodle is hand pulled to 12 feet before being cooked in the soup or source of your choice. The result? The tastiest noodles (or should I say noodle?) I've eaten in years. I am recommended the Biang Biang Noodles with spring onion and chilli oil, tomato and egg, garlic and braised lamb and it is delicious. The toppings are arranged separately on top of the noodle, each colourful section enticing a distinct new flavour. I am surprised by just how filling this dish is, perhaps it is best I shared those gyozas after all.
My mum (my dining partner for this evening) picks the fried meatballs in chicken broth clay pot. This dish comes with a 20-minute preparation warning, but it arrives on our table in 10 – although you need to leave at least five minutes for it to cool down. The smells that come out are too tempting to resist as we check if it's cooled every 30 seconds. But our patience is very much rewarded, the boiled eggs somehow look cuter than a usual hen's egg and the seaweed, noodles and meatballs are flooded with tasty chicken broth.
My choice of plum juice pairs well with the dishes, the fruity flavour contrasting the savoury tastings on offer. It's  just a shame that they have run out of their Xi'an rice wine as it's a drink I'm eager to try. As the Biang Biang noodles are too filling for me to manage desert, I opt for a traditional cup of green tea to end our meal on. With quick service and unique, authentic dishes this hidden gem won't stay that way very long.
The details
8A Sackville St, Mayfair, London W1S 3EZ | 020 7734 0300 |  http://www.murgerhan.com/