Classic Fare at The Ivy Café in St John's Wood
With so much changing daily and not quite knowing what to expect, I venture out to the chic London village,  St. John's Wood. I'm rather excited to be meeting a friend at The Ivy Café for a touch of normality in a crazy world.
On arrival it is very clear that guest and employee health and safety are paramount. This immediately puts us at ease. We are met by an explanation at the door, a thermal camera takes our temperature and we are asked to sanitise our hands before entering. Under new stricter guidelines we are reminded that our mask must remain on when not seated at the table, and with this we are shown to our table.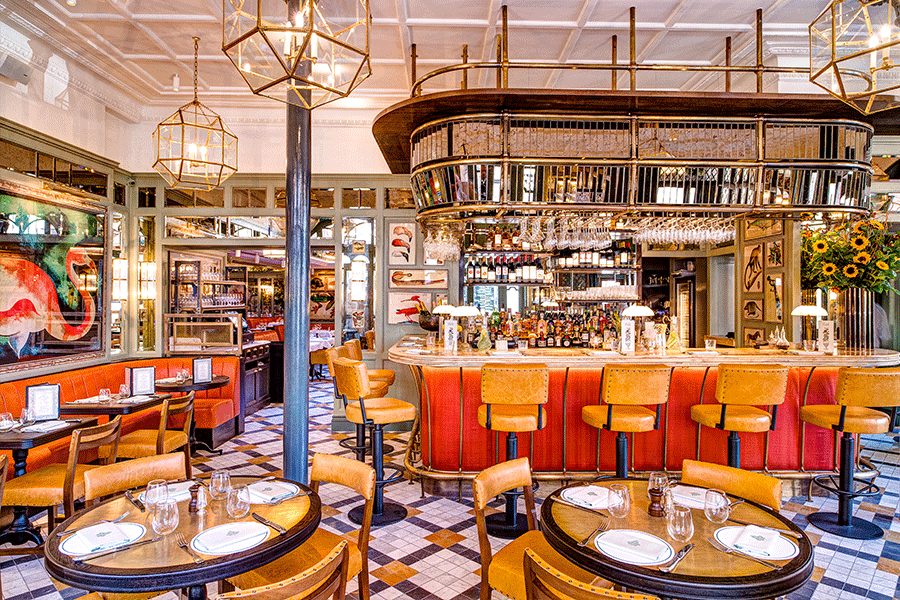 The restaurant is a casual, brasserie style, offering all day dining in a relaxed and friendly environment. There are a mix of comfy seats at tables and sofa booths for larger parties. The tables are socially distanced enough for us to feel safe with no need for perspex screens between them. The bottle of hand sanitiser on each table is a very welcome addition. Our waiter is very attentive and in no time we have ordered a chilled bottle of Whispering Angel to get us started. It takes us a while to choose from the menu as there are so many options to pick from, ranging from classic British fare to curries.
For starters my companion and I both opt for the white onion soup and it's wonderfully warming on a cool evening. The presentation takes us by surprise though; our bowls arrive with a cep tortellini parcel, crispy shallots and black truffle. The onion Lyonnaise is poured from a jug at the table. The combination of flavours complement each other perfectly and it's a lovely twist on a classic.
For our mains we have the blackened cod fillet which is soft and tender, complemented tantalisingly by the flavours served with it, particularly the chilli and yuzu mayonnaise. We also order a side of jasmine rice with toasted coconut and coriander and green beans with roasted almonds which work deliciously with the meal. The menu has quite the variety of fabulous dishes and I am very tempted by both the Keralan sweet potato curry and the traditional fish and chips. Ah well, I'll just have to come back another day to try those.
For dessert we have the chocolate bombe which satisfies my sweet tooth perfectly! The presentation is part of the excitement for this dish. Our plate arrives with a chocolate bombe surrounded by white foam and we watch with great anticipation as a jug of hot salted caramel sauce is poured over. The combination of textures and flavours make for the perfect end to our meal.
A final flourish is the mini chocolate truffles with our coffee, although I must admit I am defeated and take these home to my family as I can not eat another thing!
120 St. John's Wood High Street, NW8 7SG (theivystjohnswood.com)