The Best Buttermilk Chicken in the West
Dirty Bones in Kensington
Over the past decade London has seen a slew of trendy American styled diners, burger joints, hot dog, fried chicken and even mac' n' cheese pop-ups arrive… Don't get me wrong, I'm not about to complain here, not one little bit. If it's done well, I am more than happy to indulge in a guilty pleasure, and Dirty Bones provides just that in spades.
Empire of Dirt
It's proven itself to be a firm favourite amongst west Londoners for several years now, and has consequently branched out to locations in Soho, Carnaby Street and Shoreditch. Even landing in Oxford to give those clean-cut elite students and locals out there the eponymous "dirty" experience they had previously been lacking.
Diving Through Place and Time
The original experience is hosted in a "dive bar" setting in a basement on Kensington Church Street and encapsulates both Brooklyn and retro-cool perfectly. It is here that Dirty Bones transports you back to somewhere amidst the '70s and '90s with their clever use of pinball machines, rickety old record players, low level lighting and a fantastic soundtrack played at a level most restaurants would consider intrusive to the diners. Here though, it most certainly isn't, it's just part and parcel of the great vibe provided by this stylish little venue. The soundtrack is appropriately comprised of the soul & funk 7"s one might have expected to hear on those aforementioned record players in the '70s, alongside old school hip hop from the '80s and '90s.
Now, I hope you'll allow me the indulgence of informing you, that this is music to my particular ears in every way possible due to the fact that I was a hip hop producer myself in a previous incarnation, and worked with some of the UK and NY's finest, way back when I actually had hair. Given this, I happily nod my long since bald head along to the beats kindly provided, as my partner and I tuck into the veritable feast we (ahem, over) order (again) on this occasion.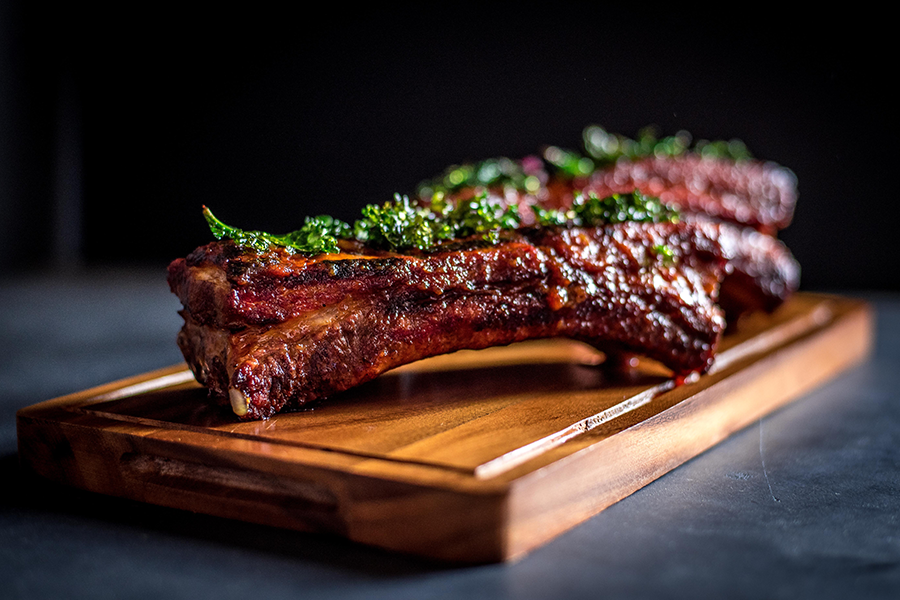 The Meat Of The Matter
So, to the food and drink itself: Marvellous! We have cocktails to start with as we quickly decide what we are going to eat. I can wholeheartedly recommend the 'Mutt's Nuts' which is a pleasantly sweet and tangy bourbon based cocktail. My partner also enjoys her 'Top Dog" highball; a refreshing mixture of Prosecco, vodka, Chambord and strawberries.  For starters we opt for the mac balls, which are Dirty Bone's very own take on arancini, utilising macaroni cheese instead of rice, which works wonderfully. These arrive alongside the grilled sea bass tacos, and my word, are they delicious!
Having settled in nicely we continue ever bravely onto our main courses. We share a 'Mac Daddy' burger and a plate piled high with crispy fried chicken. The chicken is the star of the show, having been brined for 24 hours, making it perfectly succulent and coated in buttermilk and spices fit to make the Colonel storm off in green bespectacled envy. The burger isn't bad at all either, but should you visit Dirty Bones yourself (and you really should) make sure to specify that you'd like it cooked medium rather than well-done, as it seems the latter is the default here.
I must make specific mention of the crispy lamb fries, which are simply a wonder. The crispy yet succulent lamb in sweet miso atop perfect skinny fries served with red chilli and jalapeño is divine, and enough for a couple to share, if you just want a snack before visiting the great little bar in the adjoining room.  Should you be foolhardy enough however, as we are, to order them alongside everything else we have, then you will similarly find that you are too full to sample the dessert menu. This would be a shame, as we hear great things of it! We do make room for another drink in the bar though, which is a very cool little hang-out in itself… So, go to eat or just to hang out in the bar: we highly recommend it.  Just wear some loose-fitting clothing!
Dirty Bones, 20 Kensington Church Street, W8 4EP, 020 3019 9061.
Cocktail Hour, Tuesday to Friday, 5-7pm.  DJs spin old-school tracks and party gems every Friday and Saturday from 9pm 'til late