The Best Bonfire Night Drinks
Bonfire Night is just around the corner and, to mark the evening, here are some of the best drinks to serve up at home
CÎROC French Martini Cocktail
The CÎROC limited-edition flavour, CÎROC black raspberry is back right in time for winter, and mark the occasion with this classic French cocktail.
Ingredients
60ml CÎROC Black Raspberry
50ml pineapple juice
7ml créme de cassis liqueur
Method
Add all the ingredients into a shaker with ice and shake. Fine-strain into a chilled cocktail glass.
---
Añejo Old Fashioned
This is a simple serve to build at home, and mixes up the traditional Old Fashioned cocktail recipe by substituting whiskey for Patrón Añejo Tequila.
Ingredients
50ml PATRÓN Añejo Tequila
7.5ml simple syrup
1 dash bitters
Orange peel for garnish
Method
Over a double old fashioned glass, use a vegetable peeler to take off two strips of orange zest, making sure to express the oil into the glass. Add Patrón Añejo, simple syrup, and bitters. Add ice – the biggest cubes you can find – and stir.
---
Rum Bonfire
The ultimate alcoholic evocation of smoke and fire, ideal for bonfire night.
Ingredients
Method
Dry shake and pour over crushed ice in a martini glass.
Garnish with toasted marshmallows galore!
---
Tea Liqueur Champagne Cocktail
The Fortnum's X Conker Distillery Cold Brew Tea Liqueur is the world's first cold brew tea liqueur and you'll only get it at Fortnum's. So delicious, it may be cold brewed but it's totally warming, as it's expertly blended with Fortnum's signature Countess Grey black tea.
Ingredients
140ml Highgrove Cuvée Champagne Blanc
40ml Fortnum's X Conker Distillery Cold Brew Tea Liqueur
Peach slice
Method
Simply add a shot of the liqueur to the glass of champagne, and place in the peach slice to infuse.
---
Jasmine Cooler (alcohol-free)
This is Amplify's very own take on a refreshing iced tea.
Ingredients
70ml Amplify
40ml jasmine green tea syrup
15ml lemon juice
75ml soda
Method
Build all ingredients into a highball glass with cubed ice.
Stir and garnish with a mint sprig and passion fruit wedge.
To make the tea syrup, brew jasmine green tea with 100ml of water. Add 40g sugar and stir until dissolved. Allow to cool and stick in the fridge before use. To switch up the recipe, swap jasmine green tea for any other tea of your choice.
---
The Smokito
Whisky and rum lovers take note: Smokehead Islay Single Malt Whisky is finished in rich Caribbean rum casks. The new Rum Rebel Smokito combines warm dried spices and a fruity sweetness, that come through with Smokehead's signature extremes of what they call "peat and punch".
Ingredients
50ml Smokehead Rum Rebel
25ml lime juice
25ml water
2 teaspoons sugar
Fresh mint
Flakes of smoked maldon sea salt
Method
Add mint and sugar to the glass and stir, then add the lime and water until all the sugar has dissolved.
Add ice and pour the Smokehead into a highball glass.
Sprinkle with a few flakes of smoked Maldon sea salt to bring out the flavours.
---
Peanut Butter Martini
Ingredients
15ml Aber Falls Gin
1 bar spoon smooth peanut butter
15ml chocolate sugar syrup
Method
Shake and double strain into a biscuit rimmed martini glass. Further garnish with Rococo Espresso Shots on top.
---
Doña Sofía/Two Brooks/Unknown Pleasures
And for those who want to sit back and relax. There's Doña Sofía, the U.K.'s first and only CBD infused ready to drink cocktail mixer that comes in three variants of Tonic, Lemon & Lime Seltzer and Cola. Have on their own or add to spirits. There's also the alcoholic sparkling waters from TWO BROOKS, a light and refreshing mixed drink that's infused with natural fruit flavours. Love an espresso martini? Well, a must-try is the RTD cocktail brand, Unknown Pleasures, that's brought to you by renowned restauranteur, Oliver Peyton. His luxe espresso martini in a can merges premium vodka with fine arabica coffee for that delicious hit.
---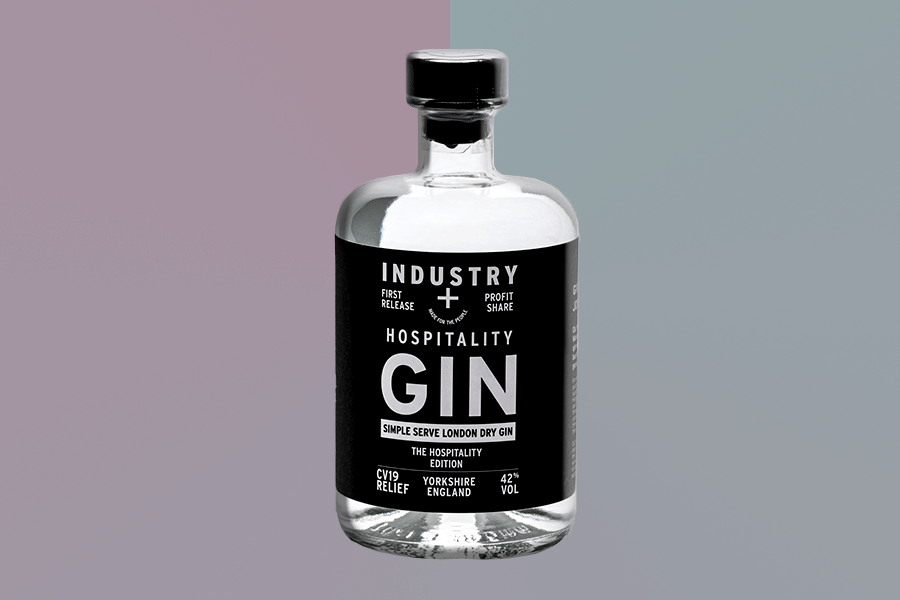 Hospitality Gin
For a spirit with a conscience (and for a classic g&t moment), try Hospitality Gin, a new not-for-profit gin brand created to support UK hospitality industry throughout the Covid-19 pandemic. All profits benefit the UK's hospitality industry and workers via The Drinks Trust and Hospitality Action, with plans to set up a dedicated fund.
---
Virtual cocktail masterclass
Or if you fancy something more interactive try the Virtual Cocktail Masterclass brought to you by Mixology Events. They'll send out all the items you need for the class including premium spirits, a stainless steel professional cocktail kit, fresh ingredients and recipes…let the fun begin.