Riverside Dining in Canary Wharf
A Waterside Wonder: Brera Riverside.
Living in East London, the thought of schlepping central only to return an online order can fill my heart with dread.  But with return-date deadlines looming, life admin must prevail.  Before mentally preparing myself for the crowds of Oxford Circus I remember that there is an alternative destination quite close to hand; Canary Wharf.
This glittering (not-so) little gem fills the East London skyline and has everything I need making it an ideal off-peak weekend destination to tick a few things off my admin list.  You don't have to work in finance to make the most of what this, often uncharted district, has to offer.  The former docks are now beautifully landscaped and have become a real foodie hotspot with the demand for post-work drink venues and discerning diners high among its usual 'city chic' weekday inhabitants.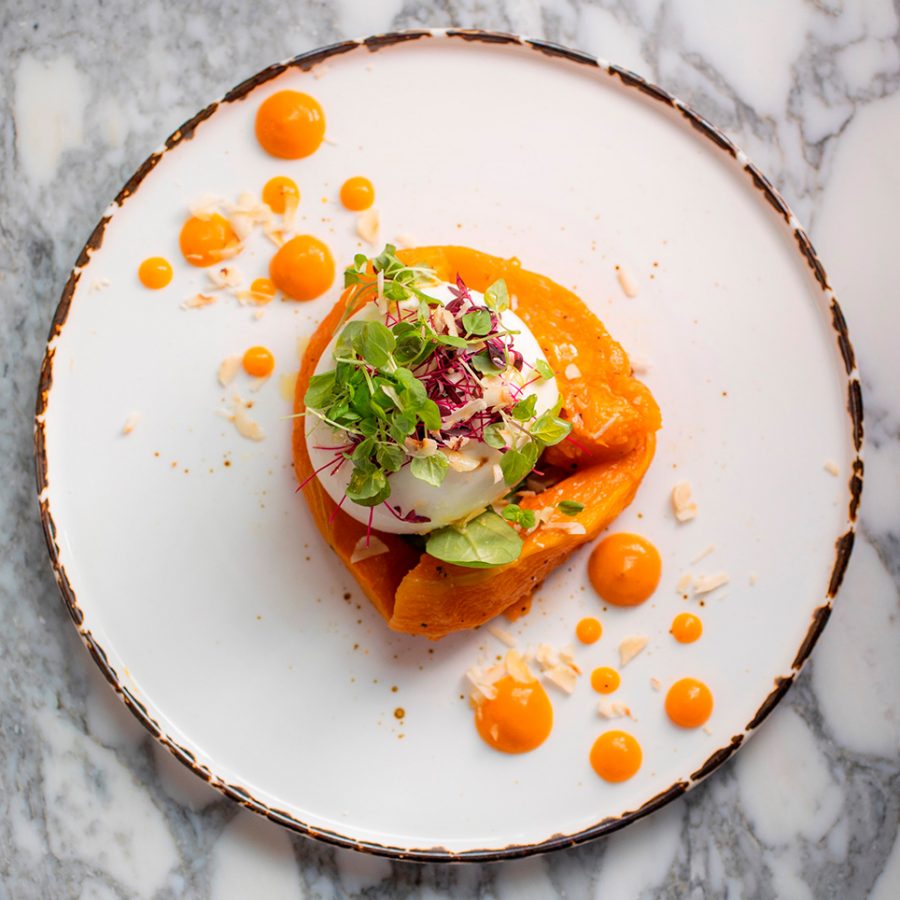 Grown up charm
Café Brera, is a long-established Italian café chain that's well known in the area as a go-to for your all-day coffee fix and with its growing success comes a newly opened riverside location, Brera.
It's an informal, grown-up affair just up the steps from the Canary Wharf clipper trail.  In from the cold, we see a marble-topped counter at the entrance, filled with sweet treats.  Brass accents add warmth to this well stocked coffee/cocktail bar area.  It is a welcome sight coming in from the nippy November air.
By night, when the lights are dimmed, the coffee cups are replaced by the stunning vintage inspired crystal glassware that I can see sparkling on the tables of fellow diners; stunning! I can almost imagine the sound of cocktail shakers making this a lively hub to share a bottle of wine over some delicious antipasti of Italian prosciutto, salami and cheeses. There is an extensive wine list from across Italy and a full dinner menu and I'm here to eat – all three courses!
Interior envy
The décor is thoughtful, exuding a sophisticated charm that is very comfortable; a homely, muted Italian glamour if you will.  Carefully curated old world etched pictures and antique style market finds adorn the textured wall paper, the type that looks like heavily woven linen. The traditional neutral colour palette of the room is in tones of subtle grey/green adding more softness to the charming booth I'm sitting in (or as I'm feeling 'euro', the banquette).  Upholstered in a plush botanical patterned fabric edged in an almost fluorescent pompom trim it's a well-deserved spot to sit back and enjoy a taste of Italy.
When in Rome, well…anywhere in Italy.
After working up an appetite (and crediting my card with shop returns) I decide to take on the Brera Motto, 'Taste life with Gusto'.  I order a glass of Prosecco as an aperitivo to get me in the mood for my starter, not that my appetite needs any encouragement, I'm already scanning the menu.  I nibble on an assortment of breads from the Cicchetti options which arrives artfully presented and served with fresh pesto on a gorgeous glazed stoneware plate.
The tableware at Brera really has caught my eye and has me tempted to peak underneath to find out where its from. My attentive waiter talks me through the daily specials and he almost has me at truffles, how decadent (and extremely Insta-friendly), but the menu has so much more to offer.  I make the tough decision and order.  I'm more than peckish at this point and decide on Pere e Gorgonzola;  pear and gorgonzola salad topped with walnuts. New territory for me and I soon realise this simple Italian creation is the perfect marriage of flavours, washed down with a white wine recommended by our waiter.
The minerality of the wine compliments my dish perfectly and leaves my palate more excited for the main course.  My guest opts for a Puglian speciality (that's the region on the heel of the boot of Italy, if you will), roasted pumpkin topped with burrata cheese, a dish that is as pleasing in taste as it is in colour; bold orange against a generous whole portion of creamy Burrata.  As the dishes arrive we each suffer from a major case of food envy and decide to share.
Hearty Fare
The main plates offer the usual hearty Italian staples of pasta/risotto dishes along with meat and fish options, taking inspiration from all over Italy.  I decide on the latter; baked sea bass served with roast potatoes with a parsley garlic sauce. Delicious.  My guest opts for chicken breaded with a parmesan and rosemary crust; Pollo al Parmigiano, and I  twist his arm and force him to eat his greens, ordering a side of spinach topped with hazelnut which he does not regret.
Finally, for dessert I order Torte Di Meile, a honey cake. I'm wondering why it has taken me 30 years to discover this.  It is a traditional Italian cake usually served around Christmas time and is a dense cake served as a towering wedge on the plate.  It has a delicate and distinctive honey flavour that is not as sweet as it sounds; perfectly balanced.
The Bottom Line
The success of Italian cookery is down to its simplicity of flavour and fresh ingredients and renowned Italian chef Andrea Cirino has done it beautifully at Brera.  Combined with the home comforts of softly furnished seating, smartly turned out tableware and a welcoming ambiance make it a must-visit.  So whether you are in Canary Wharf on your lunch-break or looking to have a Sunday stroll on the river where 'FT Weekend' wielding yogi's and prams collide, take in the views over some Italian favourites at Brera. Don't forget a shot of limoncello to finish, just to be…you know, authentic. Buon appetito!
31 Westferry Circus, Canary Wharf E14 8RR  https://www.cafebrera.com/