Nobu is one of those restaurants needing very little introduction. Opened in 1997 and situated on Old Park Lane, it was THE place to be in the late nineties.  Now established across the globe, it's still a huge treat to come back and visit again.
With new Covid rules in place it still manages to feel buzzy and atmospheric. The interiors are understated and natural; plenty of wood and natural stone, picking up on elements of Japanese design. The two of us are tucked away into a corner and are able to spread out over a table for four, which feels relaxed and certainly accommodates the tasting menu we are about to promptly dispatch.
Nobu interior
Everything at Nobu exudes the highest quality, the service, the food, the tableware. Our waiter comes over to the table and before we know it we are sipping a refreshing and very welcome glass of Delamotte Rosé Champagne; this really does set the mood and it slips down really rather easily.
In no time at all our dishes arrive at the table. Everything is beautifully presented and the chilli, garlic and soy sauce dips which accompany our meal complement them beautifully. To start with we have deep fried okra, crispy rice cubes with a salmon sashimi top and salmon tacos. The fusion of flavours and textures along with the dipping sauces certainly awaken our taste buds and are delicious, leaving us feeling excited for what's next!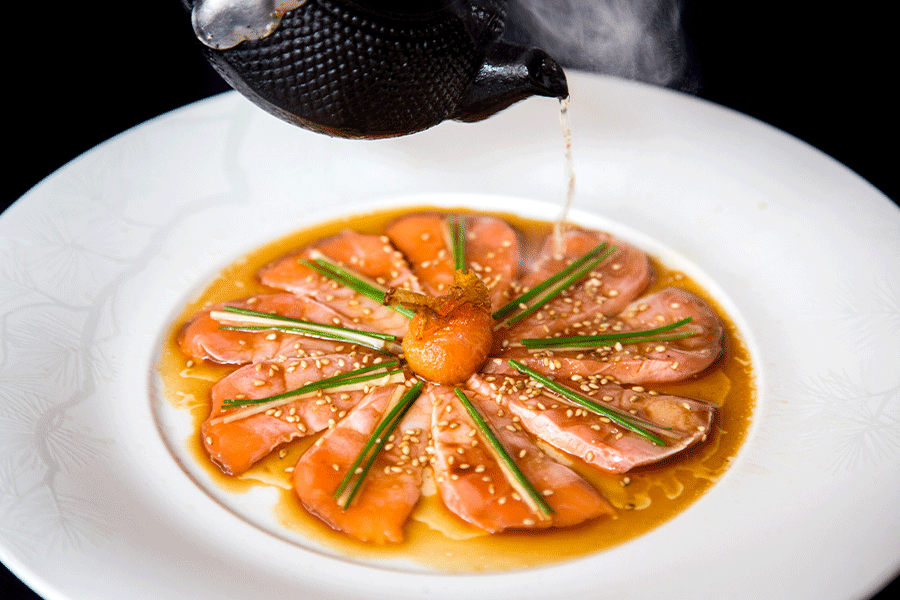 Salmon Sashimi
We move on to the sushi and sashimi, a selection of salmon, yellowtail and sea bass all of which are perfectly melt in the mouth and fresh. The toro tartare with caviar goes down particularly well with my dining companion.  It has to be said that our absolute favourite dish is the black cod with a sweet caramelised glaze. This is cooked to perfection and the succulent chunks fall gently apart with each bite. The Chilean sea bass with red jalapeno miso glaze is equally tasty, but there is something special about Nobu's black cod that makes it a must-order. For meat lovers it's definitely worth trying the wagyu beef gyoza, served alongside some tender beef skewers, baby corn, and tenderstem broccoli.
Sushi cup
Then comes dessert which really is the perfect finale to our meal. A beautifully presented Bento box with chocolate melt in the middle pudding and green tea ice cream, which I can't recommend highly enough, and a mango cheesecake with coconut sorbet which is also delicious.
We leave feeling as though we have had a very special night out – certainly very welcome in these times.
19 Old Park Lane, Mayfair, London W1K 1LB, 020 7447 4747 (noburestaurants.com)