The Ultimate Luxury Drinks List for Christmas
Your drinks cabinet will thank you.
1. Patrón Silver Limited Edition Heritage Tin
Specially designed by renowned Mexican artist Joel Berrelleza, the Patrón Silver Limited Edition Heritage Tin showcases Mexican art and craftsmanship. Inspired by his homeland's vibrancy and the joy of its people, the designer has summed up his feelings by saying simply "Mexico is colour."  This limited-edition packaging is perfect for both Patrón Tequila aficionados and those who are seeking the simply perfect gift this Christmas. You can keep the tin for storage afterwards
harveynichols.com RRP £54
2. Portobello Road Gin
Purveyors of festive spirit, Portobello Road Gin, have crafted the perfect gift for the first day of Christmas with its brand new limited edition gin: 'A Parsnip In A Pear Tree'. This unique gin takes inspiration from the traditional aromas and flavours of Christmas Day; combining the seasonal staple, honey-roast parsnip, with the Christmas tree like qualities of juniper and a generous selection of the traditional gin botanicals. After the distillation is complete, spiced pear liqueur is added, resulting in a complex yet reassuring flavour profile.  'A Parsnip In A Pear Tree' Gin (47.3% ABV) has been created using parsnips sourced from the fruit and veg barrows from London's most iconic market streets and the gin's home, Portobello Road.
www.portobelloroadgin.com, www.the-distillery.london RRP £39
3. Amarula Vanilla Spice
This indulgent cream liqueur is the perfect Christmas gift – the creamy vanilla and complex spicy notes combine to produce a luxurious treat that will be a big hit at any festive dinner table or party. Best served over ice to let the potent and complex flavours speak for themselves. Amarula Vanilla Spice is made from ethically sourced, uniquely African ingredients – distilled Marula spirit, vanilla extract from Madagascar, and a Nigerian Ginger root, all expertly blended with the finest quality cream for an indulgent taste sensation.
4. Calvados
Newly launched in the UK, 30&40 is an artisanal Calvados bottler from Normandy that only uses all-natural ingredients. Created by three friends who wanted to bring the qualities of a premium tasting spirit whilst being delectably drinkable and accessible. 30&40's range of six unique products (three single casks, three blended spirits) offers a modern expression of centuries-old traditions of distillation and ageing.  The blended spirits can either be served on ice or as a mixer within a cocktail. The Single Casks are on par with the best single malt whiskies and would make an ideal present for the discerning drinker.
30&40 is available in retailers such as Soho Wine Supply, The Whisky Exchange and Gerry's Wines & Spirits – all ship nationwide.
5. Absolut Juice Edition
An old favourite with a delicious, juicy fruit twist. Perfect for serving with tonic or in a Christmas cocktail. With 5% juice from strawberries or apples, it's fresh and smooth with rich notes of the fruit and a well-balanced sweetness. Create delicious cocktails by just adding soda or Prosecco, ice and fresh fruit.
Amazon RRP £12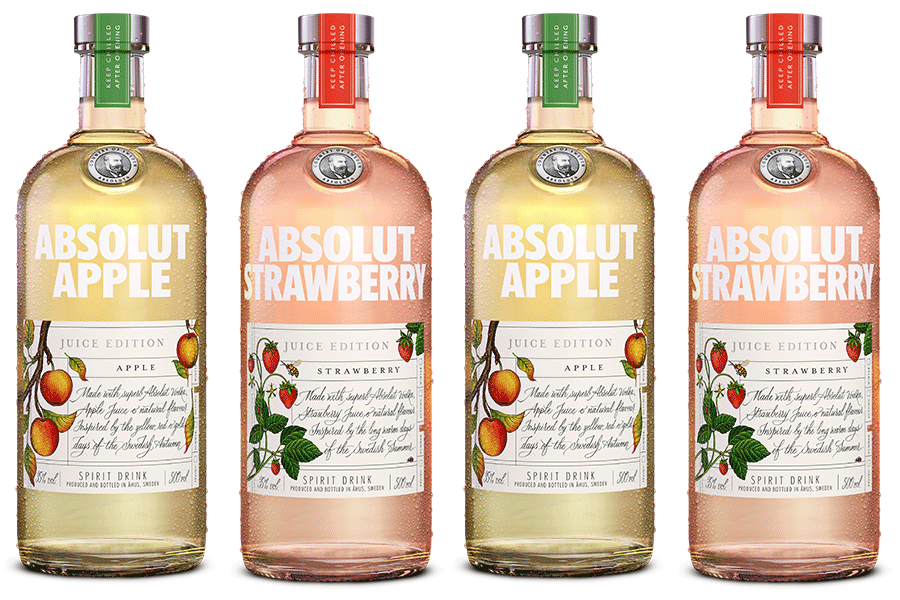 6. 44°N
The first flagship product from ground-breaking creator of exceptional spirits, Comte de Grasse.  The gin, which has been created using age-old perfume extraction techniques melded with cutting edge distilling technology, is set to challenge conventional thinking on both flavour creation and sustainability in the world of luxury drinks. You'll definitely want to keep the empty bottle too.
Available to buy online direct from the distillery £66 for 50cl bottle (44% ABV), excluding postage
7. Glenlivet Captain's Reserve
The Glenlivet, the definitive Single Malt Scotch whisky, is exploring how the finish can create impactful new journeys of discovery. This brand-new expression pays homage to the importance of the finish, much like many craftsmen, whose finishing touches add a wholly new perspective. The Glenlivet Captain's Reserve is a beautiful new Single Malt whisky selectively finished in high-quality cognac casks, offering an adventurous new taste exploration. Bursting with sweet and fruity aromas. Rich in honey and apricot jam, with notes of sweet cinnamon bread and a subtle sensation of spicy liquorice.
Master of Malt  RRP from £45
8. Appleton Estate 30 Year Old Jamaica Rum
This distinguished, decadent, one-of-a-kind rum experience is the ultimate gift for someone very special and, with notes of vibrant vanilla, toasted oak, ginger and warm cinnamon, it's as close to the spirit of Christmas as you can get in a glass. An incredibly rare and complex blend created by Master Distiller Joy Spence, this new expression has tradition and history at its heart, including rums aged for at least 30 years – and some for as long as 50. With a smooth, long, spiced honey finish, Joy recommends serving neat or on the rocks to fully appreciate the flavours.
£399, available on The Whisky Exchange mid December
9. Cointreau x Design Laboratory at Central Saint Martins
Created in collaboration with the prestigious Design Laboratory at Central Saint Martins College, the limited edition bottle has been reimagined by taking inspiration from the luxuriant Jardin des Hespérides; a garden filled with golden apples, later discovered to be oranges – a traditional Christmas gift and the heart of Cointreau. "We've taken this exciting blend of ingredients inside the spirit and celebrated them, adorning the exterior of the iconic bottle with a perfectly balanced, timeless design" shared Benio Urbanowicz, Creative Manager of The Design Laboratory. A nod to the mythological 'golden apple', the bottle is topped with an ornate, perfume-inspired square cap and encased in an orange box with a fabric interior. A real keep-sake.
The Limited Edition is limited to 1000 units worldwide, with only 50 to be retailed exclusively at Harvey Nichols (RSP £45).
10. Foxhole Gin
Created using a innovative three stage process developed in 2014, Foxhole Gin is crafted using the rare and valuable by-products from the English grape harvest. Taking an astonishing 8,760 hours to make; Foxhole Gin is beautifully balanced, smooth and aromatic with flavours that subtly change with each new vintage.
https://www.foxholespirits.com/foxhole-gin/ RRP from £39.99