HIDE's New Venture Pops up in Piccadilly
Something's HIDEing in Burlington Arcade…
HIDEaway really lives up to its name. Nestled snugly between Burlington Arcade's jewellers and luxury outfitters, you'd be forgiven for missing it completely. Needless to say I'd put another 100 steps on the clock parading up and down, before I eventually spotted it – an unassuming cream front, tucked under the arcade's postcard pretty festive lights.
HIDEaway is the spinoff of Ollie Dabbous's Michelin-starred mecca, Hide, just a few streets away in Mayfair, and Hedonism, the wine-palace.  In contrast to the restaurant, this cosy pop-up aims to channel the feel of a "Parisian bistro" – and they're doing it well. The interior is stripped back and mostly wooden, but with luxury accents (bath tub filled with champagne, anyone?), and little tables spill out into the arcade for visitors to people watch as they graze.
Small plates and fine wines
On the menu, the stripped back theme remains – it's comprised of small nibbly plates, done elegantly. For us on a cold November night, it's a festival of carbs. The chicken liver parfait with toasted brioche and homemade fig and hibiscus chutney melts in the mouth, and makes a surprisingly good pairing for our beverage du jour: a cold glass of Blanc de Blancs champagne.
We continue our carb-y theme in style – a HIDE bread basket filled with alternative bakes, like red wine and fig, quinoa and cumin, and potato and rosemary sourdough. So far, so gluttonous. But the real magic comes in the form of the humble Croque Monsieur – this version offering oozing cheese, the most tender slices of ham, and shavings of black truffle on top (no less). A glass of crisp Réserve Blanc white in hand, and we are almost fit to burst. Almost… We obviously still find room to share an avocado, radish and mixed leaf salad (if only to lessen the inevitable carb coma and beige food regret…)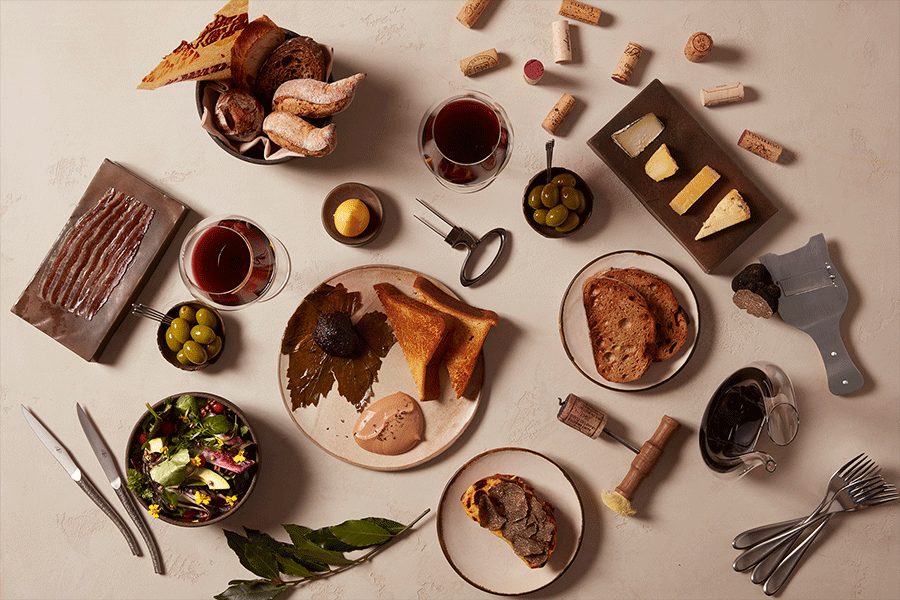 One for the Road
And the best bit of HIDEaway? The cosy décor certainly hits the spot – chairs are vintage and worn, the floorboards are bare, but a dozen or so different sized mirrors adorn the walls in true shabby chic style. And the service is faultless too; our glasses never empty, and our bellies certainly full from our waiters' recommendations.
But the magic really happens on the way out, where you can purchase some of HIDE's signature goodies – including those alternative, amazing breads, some pots of their wonderful chutneys, and jams. In typical Dabbous style, the wine is a big feature too and you can purchase a bottle (or three) of this too from the Hedonism cellars. A perfect Christmas gift for any bon vivant in your life (including yourself, of course).
The venue closes at 8pm and is hidden once more, so get there in good time for a cosy evening of nibbles and fine wines in one of London's prettiest postcodes. It's the ultimate spot for a tipple over the festive season, and by day there's coffee and croissants too. But be quick – it hides away for good in February 2019. Which gives me plenty of excuses to return, sharpish…
HIDEaway, Burlington Arcade, Mayfair, W1J 0PW, hide.co.uk