Godiva's Chocolate Challenge
The name Godiva has become a symbol of luxury and prestige the world over. Of course, Lady Godiva's legendary ride through the town of Coventry clad in nought but her long tresses in protestation against her husband's taxation of his loyal subjects, won her the hearts of many, and, according to the master chocolatiers themselves: 'Nowhere is her passion, purity, sensuality, style and boldness more symbolised than in Godiva chocolates, which in turn are sure to win the hearts of those who taste them'.
They recently ran a competition to find 'a chocolate dessert whose presentation, creativity and texture reflects the craftsmanship and excellence of Godiva'. We were honoured to be invited along to witness the final 'Bake Off' style event in the luxurious Boffi kitchen showroom on South Kensington's Brompton Road.
The four finalists (and indeed some members of the press and invited guests, ahem!) were tasked with composing a recipe of their own using chocolate (Godiva, naturally!) to be judged by the chief chocolatier at Godiva, Thierry Muret; Michelin-starred chef, Mark Hix; food critic and editor, William Sitwell; and Juliette Nothomb, culinary blogger and author of Life's a Praline. The finalists all receive a five star trip to Brussels, with the winner visiting Godiva's Atelier of Chocolate and having the honour of their very own chocolate dessert being on the menu at Hix's Selfridges restaurant for a week, and potentially beyond.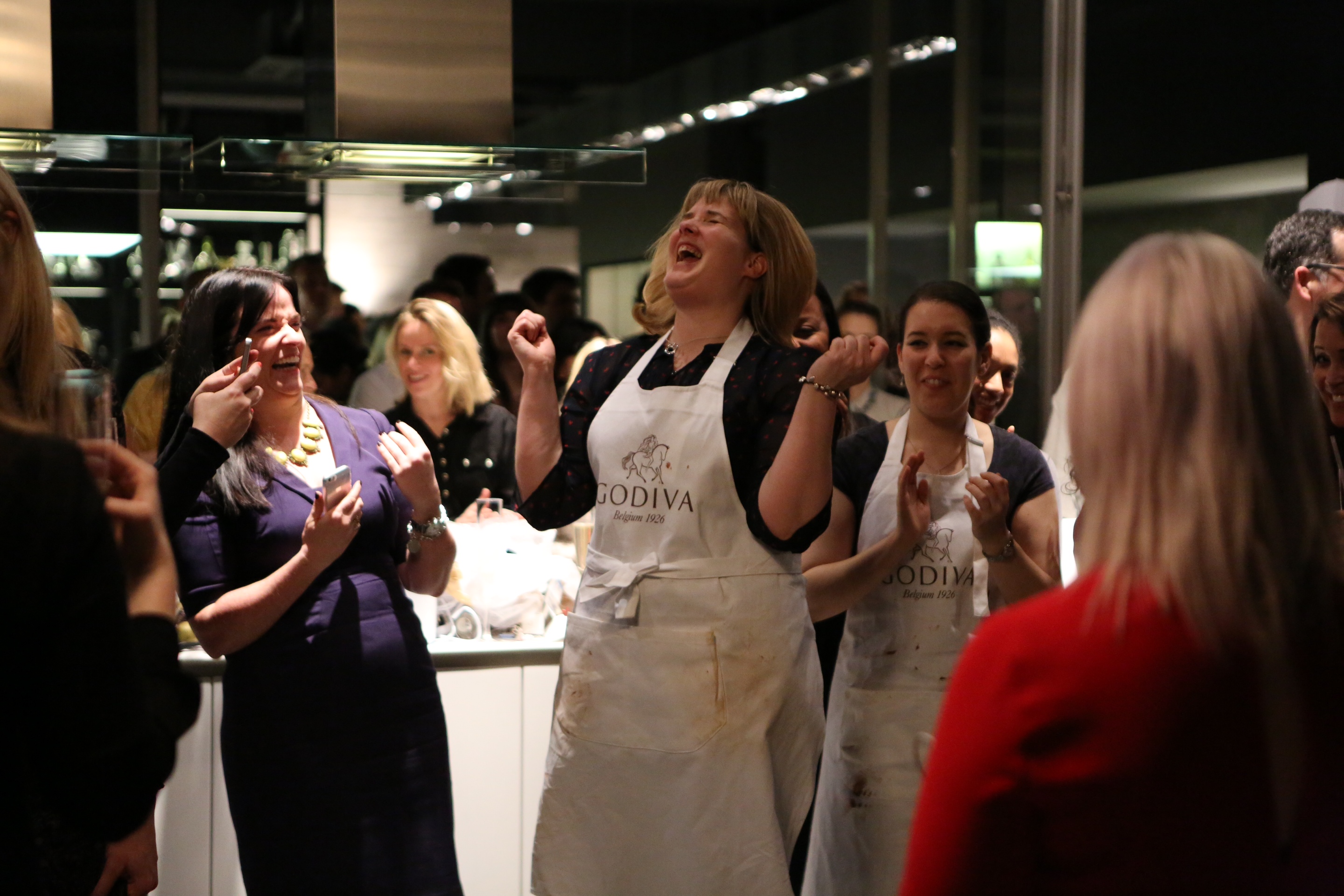 All four dishes were unique and delectable, and we were certainly glad that it wasn't us in the judging chair. The winner, A Conference of Chocolate, was a sumptuous dish of sorbet, mousse, crumble and poached Kent pear, presented by Heather Bennett, a budding chocolatier who works full time in the City. She was inspired by Godiva's use of the finest quality ingredients, and Mark Hix's love of seasonal produce. Heather, despite being the last to finish, due to the complexity of her recipe, was hailed by the judges as impressive and very accomplished.
The other three, no less inspired finalists' recipes could also easily find their way onto an exclusive menu in one of London's prestigious eateries. Danny Kingston is a renowned food blogger whose love of chocolate started with Charlie and the Chocolate Factory at a young age and his creation, Candied Bacon and Chocolate Tartlet with Pork Scratching Snap was certainly daring to be different with the salty sweet addition of something you would expect for breakfast, rather than dessert.
Victoria Glass chose to present a chocolate hazelnut praline mousse cake which was elegant and luxurious with layers of flavour coated with chopped nuts. Various kitchen malfunctions in the showrooms meant all of the contestants had slight hitches with their endeavours, but despite a slight delay in setting time, her bunny ear-topped mousse cake was just the right balance between mousse and cake, according to William Sitwell.
Natasha Cohen was accompanied by her very proud parents while she beavered away with our favourite heart shaped chocolate mousse cake. It looked so pretty with several layers and topped with a beautifully tempered chocolate ganache, and we were lucky enough to be allowed a sneaky taste of the caramelised hazelnuts before the final judging.
For Heather, this competition will lead to many opportunities and prestige, not least having her dish on Mark Hix's menu. For the others too, we're sure there will be many chocolate adventures ahead. We, in the meantime, were honoured to sample one of Monsieur Muret's exclusive creations of chocolate mousse with pomegranate caviar. Now that's something we're sure Lady Godiva herself would have been seduced by!