Packed with comedy, characters, and magnificent cocktails, Mr. Tipsy's Down the Hatch is just the answer for post-pandemic freedom in the Capital. 
With an eccentric variety of performances every 10 minutes, guests will embark on a tour through seven uniquely themed rooms bursting with party spirit – and a generous dosage of actual spirit. Mr Tipsy's is an immersive affair with colourful actors, video projections, live music, vivid costumes and brilliant sets that ultimately cultivates an experience half Alice in Wonderland, half boozy Disneyland ride, with a touch of kitsch Gatsby.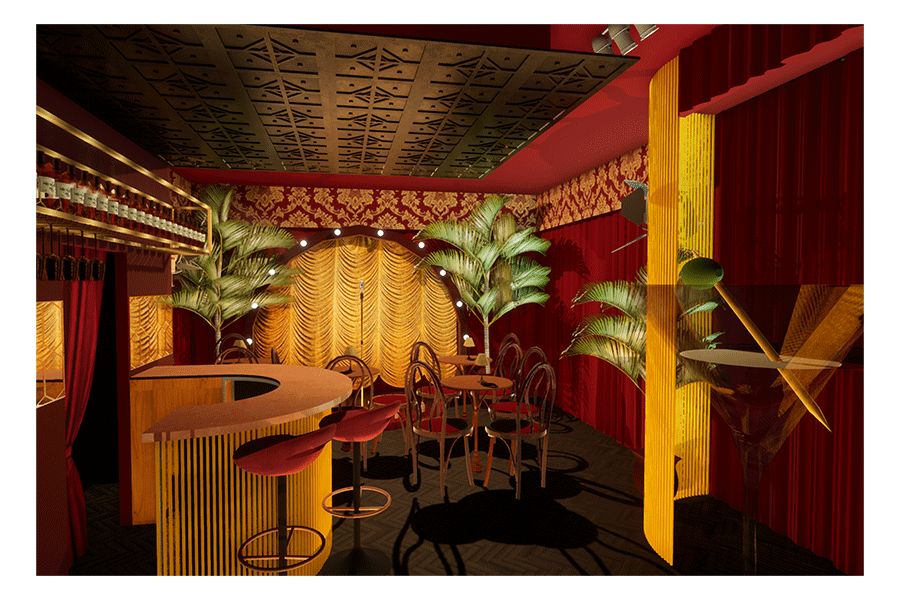 Nick A. Olivero, creator and lead producer, said "Mr. Tipsy's sprung from my passion of fine spirits and meaningful social interactions… It blends theatre with multiple themed bars and is crafted specifically for post-lockdown groups looking to reconnect with friends. We can't wait for the spectacle to begin!"
Each guest is greeted with a 'mini pour'- a drink of sorts- every time they enter new room. Visitors have the opportunity to sample an array of drinks in incredible and immersive settings, including a frozen Margarita on the white sandy beaches of Mexico, a gin Martini in a 1920s speakeasy, or a Moscow Mule in a frozen Siberia ice bar. It even boats a replica of a Wild West saloon, in which straight shots of bourbon bounce from bottle to mouth.
The experience embarks within The Holiday Bar, titled after Olivero's ambitious attempt to combine a whole calendar's worth of holidays, get togethers and celebrations, including – but not limited to- birthdays, Christmas and Valentine's Day. It even boasts imagery hinting at Hannukah and Pride. 
After a year of missed social interactions and separation from loved ones, Mr Tipsy's Down the Hatch is an absolute triumph of the kitsch and the eccentricity of the life we have all – whether in Mexico or Moscow – missed dearly. 
One America Square, EC3N. Tickets start from £39.99. Book here: downthehatchshow.co.uk