It's nearly the end of October and the salad days are over, but there's no point crying over spilt balsamic dressing, we're moving swiftly on to soup – saviour of the season and all round foodie favourite. Not just warming, but healthy and nutritious, too, it's the perfect pick me up for a dreary day.
While websites like this have made our lives infinitely richer (we love the convenience of sitting in the warm and dry, scanning the various menus of the day and the making a focused dash come lunchtime) we know that really, we should be doing it for ourselves. Because soup is simple – seriously!
To prove the point, we asked our friends at the Detox Kitchen to share a beautifully bright soup recipe to cheer up a miserable Monday. Here's what they suggested:
The Detox Kitchen cauliflower and paprika soup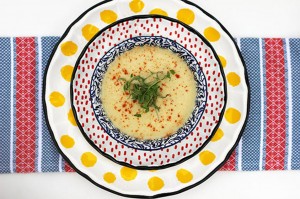 Ingredients:
1 x onion
2 x cauliflowers
2 x cloves of garlic
2 x sticks of celery (finely diced)
1 x yellow pepper (diced)
½ x tsp paprika
½ x tsp ground cumin
Method:

Fry the onion in a little oil for 10 minutes, then add the finely diced celery and 1 ½ pints of water.

Bring to the boil and simmer for 10 minutes.

Meanwhile, cut the cauliflower into small pieces and place on a baking tray with two peeled cloves of garlic and the diced yellow pepper. Drizzle with olive oil, cumin and paprika and roast in the oven for 15 minutes.

Once cooked, add the ingredients to the pan and simmer for 8 minutes. 

Finally, place all the ingredients in a blender and blitz for 2 minutes until smooth. Season to taste and garnish with a dusting of paprika.
We've tried it, and honestly, it tastes even better than it looks. No wonder A-listers like Agyness Deyn, Elle Macpherson Gwyneth Paltrow, and Jo Wood are clamouring to get a detox box of delights delivered fresh to their door daily by Lily Simpson and her talented team.