Find the Perfect Valentine's Day Gift
It's that time of year again and no doubt your mind is working overtime to think of the perfect present for your partner. You may be feeling discouraged if you are struggling to find some inspiration on how to woo your loved one on Valentine's Day. Sometimes it's hard to know where to even start.
Look no further. We've done the research for you with a range of luxe products to suit every budget.
Love Struck by MINTD Box
The rose, a classic symbol of romance. If you have a partner who loves all things rose, or if you'd like to treat yourself to some wonderful pampering for a night of self-care, then you are on to a winner with this indulgent package. Smelling of roses is just as wonderful as receiving a bouquet of them, and with this set, you'll smell like a whole garden of roses, never mind a bouquet!
This luxurious set includes a Neom Complete bliss candle, Ila Spa Body Balm and a Magicstripes Lifting Collagen Mask
This gift box has a value of £153, but you can buy the set for £70 as a one off from MINTD gifting, or sign up for monthly or bimonthly subscriptions.
mintdbox.com
The Eternity Rose
As we're always told, romance and roses go hand in hand, but have you ever heard of an everlasting rose? Not the one you saw on Beauty and the Beast, this is now real life!
Venus ET Fleur the long-lasting rose atelier was founded in 2015 by Seema Bansal and her husband Sunny Chadha. They have served many A-list celebrities such as the Hadid's and Kardashians and have just launched their first store outside of the USA in Mayfair.
It's such a shame when a beautiful bunch of roses start to wilt within days. However, these lush roses are sourced from Ecuador, and are, incredibly, preserved for up to a year without needing water.  Find out more: www.venusetfleur.com
Little Moons 'I love you so Mochi' gift box
Food is the way to many people's hearts, sweet treats in particular. Little Moons is a family-run gourmet dessert brand, specialising in Asian cuisine. Scoops of delicious gelato are moulded and coated in Mochi, which is made from gluten-free, rice flour dough. You can find the special Valentine's Day 'I love you so Mochi' set at Selfridges for £15.00. You can also choose whatever flavours suit your loved one's taste including Sumatran Coconut, Uji Matcha Green Tea and Alphonso Mango.
With celebrity fans such as Harry Styles, Simon Cowell and Kendal Jenner, Little Moons are making a big impression! Find out more at www.littlemoons.co.uk
Love Cocoa
Love Cocoa is inspired by James Cadbury's great-great-great Grandfather- John Cadbury. The aim is to reinvent classic-style chocolate with a modern twist, such as luxurious raspberry champagne truffles, from the Royal Opera House Shop.
The chocolates consist of a smooth, fresh cream ganache, containing a burst of raspberry puree and champagne in the centre. The chocolates are placed in a delicate pink and gold box, to add to the luxurious feel. Another lovely touch is the fact that Love Cocoa donates a percentage of their earnings from every sale to the Rainforest Foundation, and they are palm oil and gluten free. shop.roh.org.uk
Copper Dog Whisky
If you'd like something with a little more fire to it, a smooth glass of Whisky can be the key to a man or woman's heart. Made with a combination of eight variations of single malt, Copper Dog Whisky is deliciously fruity with a hint of honey and spice. The perfect beverage to enjoy after a wonderful meal, so when better to start than on Valentine's Day?  £28.75! www.thewhiskyexchange.com/p/36278/copper-dog
Simon Harrison
Each piece of jewellery is designed and made in Simon's central London Bridge studio by an exceptional team of craftsmen. As well as designing his own beautiful collection,  Simon has previously designed and developed jewellery for fashion houses such as Vivienne Westwood, Alexander McQueen, and Chanel, to name but a few, whilst currently developing jewellery for Ted Baker & Karen Millen.
So if you feel that Valentine's Day demands some sparkle there is no better way to do this, than with a stunning set of Flaming Heart Drop Earrings in Pink for £125, or a beautiful Flaming Hart Brooch for £175. Decorated with stunning Swarovski crystals, it's no surprise that these pieces are selling fast, so get your hands on them whilst you still have the chance! www.simonharrison.com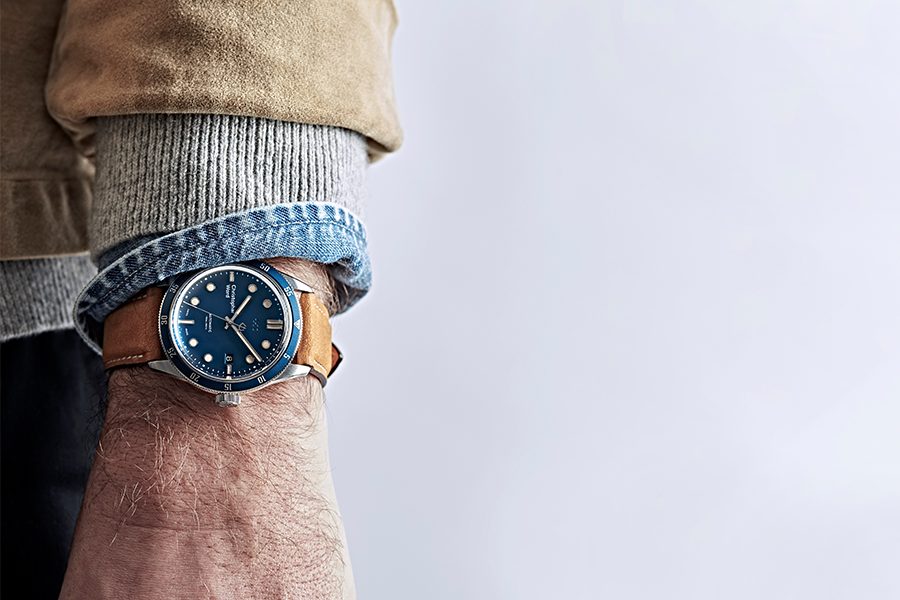 Christopher Ward Watch
Following the sell-out success of the hand wound C65 Trident Diver, Christopher Ward launches the C65 Trident Automatic. The self-winding timepiece has been created using the same 1960s-inspired design language as the wider collection but with a modified bezel and a bold new dial. Available exclusively at www.christopherward.co.uk, giving this to your loved one will win a lot of brownie points.
Bloody Mary Metal
Diamonds and all things that sparkle may be a girl's best friend, but some people prefer jewellery with a little more edgy, rustic feel. The appearance of Bloody Mary Metal jewellery portray the inspiration that Lucy Chenoweth used to start off her mission; to create jewellery she longed to find in stores, but couldn't. Lucy sadly lost her father, Roger Wilson to cancer and her 'Hope and Anchor' pendant represents her father's nautical passion.
Lucy donates profits from this necklace to Macmillan Cancer Support and so far a wonderful £5,000 has been made from these donations.
Another gem in the range is  this stunning 'Edda,' teardrop ring. Edda meaning "Grandmother", represents the fact that this ring can be worn to bring safe, warm and comforting vibes as a Grandmother would do. bloodymarymetal.com
Don Julio 1942
The world's first luxury tequila, you now have the chance to personalise its distinctive bottle. You can add a unique romantic touch to the bottle with an engraved name or message to create the perfect keep-sake gift for that special someone.
The iconic Don Julio 1942 is a small batch of ultra-premium Anejo tequila aged for a minimum of 2.5 years. With an aroma of warm oak and hints of caramel and vanilla it can be enjoyed neat or in luxury cocktails. Stockist: INKD Price: £130.00