Fabric Hot List: September 2019
What to see and do in London in the month of September.
---
Exhibition
Tim Walker: Wonderful Things | From 21 September, V&A
The V&A's permanent collection is thrown into the spotlight in this exciting new exhibition. Best known for his inventive fashion photography, Tim Walker has searched through over 143 galleries and 2.3 million objects belonging to the museum. The result is 10 new series of photographs, presented alongside each object that inspired Walker's image. The exhibition will begin with 100 photographs, displaying Walker's impressive 25-year career, including portraits of some of the biggest names in fashion, such as Edie Campbell and Alexander McQueen. Don't miss out on this extraordinary project with a special link to the museum itself.
Cromwell Road, SW7 (020 7942 2000; vam.ac.uk)
---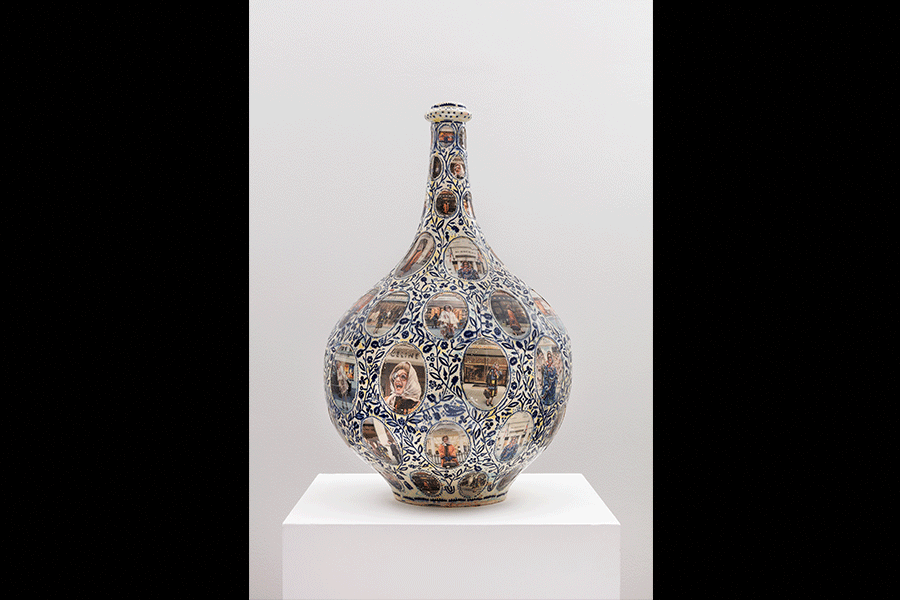 Exhibition
Grayson Perry: Super Rich Interior Design | 25 September-20 December, Victoria Miro Mayfair
National treasure Perry explores themes of money, power and desire in his latest collection. Through pots, sculptures and tapestry, as well as large scale prints, he questions what can be authentically experienced or simply purchased. The classical forms and intricate styles are put at odds with distinct questions on our own consumer choices. Expect ceramics with a dash of controversy.
14 St. George Street, W1S (020 3205 8910; victoria-miro.com)
---
Music
The Lock-In: Mozart in the Garden | 28 September, Kings Place
Part of The Lock-In series at Kings Place, this after-hours adventure will take you on a journey of musical discovery. The Aurora Orchestra enters new and unexpected dimensions in the grown-up version of their children's concert. Behind golden curtains and among plants sprouting from the stage, Hall Two becomes an immersive, late-night experience. Travelling across diverse genres, you might find yourself caught up in an electronic-classical fusion, or learning the steps to a rip-roaring hoedown. Don't miss out on this magical concoction of sound and setting.
90 York Way, N1 (020 7520 1490; kingsplace.co.uk)
---
Festival
Totally Thames | 1-30 September, various riverside locations
A celebration of the Capital's river comes in the form of art, music and a long list of exciting activities. Its 42-mile stretch is enough to cover just about everything. Dive in head first with a river swim or test the waters with a guided walk. Art installations with a Thames twist will be held at various locations over the month, as well as poetry readings, historical exhibitions and environmental talks. The popular concert series, held in the bascules of Tower Bridge, returns for its fifth year running. With the option to arrive by boat, you can experience an array of new music in an atmospheric setting.
Various locations along The Thames (020 7928 8998; totallythames.org)
---
Exhibition
Shapeshifter: The Multiverse of Wallace Chan | 14-17 September, Asia House
Combining art, science and alchemy, Wallace Chan's latest exhibition is coming to the Capital for four days of jewellery mastery. In the past, Chan has transcended the boundaries of contemporary jewellery. His most recent invention, The Wallace Chan Porcelain – a super-strength porcelain five times harder than steel – will be introduced for the first time to London audiences. His love for innovative technology, however, does not outweigh the intricacy of his pieces. Expect the most dream-like of structures, entwined amongst daring gemstones. The exhibition will feature never before seen work, as well as talks and guided tours that will trace Chan's practice over the last 45 years.
63 New Cavendish Street, W1G (020 7307 5454; wallace-chan.com)
---
Theatre
Chiaroscuro | Until 5 October, Bush Theatre 
Chiaroscuro, meaning the treatment of light and shade in drawing or painting, is the name given to Jackie Kay's exploration of female identity and the experiences of women of colour. This will be director Lynette Linton's first production as artist director here, as she breathes new life into the 1986 masterpiece. What starts out as a dinner party with friends, soon leads to a discussion of colourism, loss of the mother tongue, and homosexuality within the black community. Live music and spoken word are part of this bold reimagining that celebrates the many intersections of female identity from the 1980s to now.
7 Uxbridge Road, W12 (020 8743 5050; bushtheatre.co.uk)
---
Theatre
A Very Expensive Poison | Until 5 October, The Old Vic
In a fusion of fiction and true events, Lucy Prebble's latest creation explores the stories behind the notorious poisoning of ex-FSB officer Alexander Litvinenko. It is a compelling thriller soaked in the global politics of 21st century Europe as a murder is solved from the bedside of a north London hospital. The Old Vic takes us from Moscow to London in a turbulent tale of corruption, betrayal and radioactive substances.
The Cut, SE1 (0344 871 7628; oldvictheatre.com)