Half-term will soon be here, along with cries of 'I'm boorrred!'  If you're looking for ways to get the kids off their phones whilst getting some fresh air and entertainment, then look no further.  Whether your little devils are film buffs, bookworms or aspiring artists, there's something for everyone in London this October: 
Licensed to Drive An absolute must for all movie lovers, this exhibition features over 100 original vehicles and artifacts from all 24 James Bond films.  From the iconic Aston Martin DB5 and Goldfinger's Rolls-Royce Phantom III to the unforgettable Lotus Esprit S1 submersible from The Spy Who Loved Me.  Bond in Motion, London Film Museum, Convent Garden, WC2E. Permanent exhibition. Family tickets cost £38.
Animal Magic This family-friendly, interactive exhibition features larger-than-life animals that have been recreated using a variety of familiar machine parts and gadgets to reveal how their real life counterparts see, eat, hunt and hide. Try jet-propelled squid racing, shoot a chameleon's 'tongue gun' and even design your own mutant robot creature!  The Robot Zoo, Horniman Museum and Gardens, Forest Hill, SE23. Ends 29 October. Family tickets cost from £17.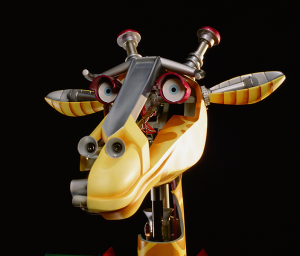 Hurray for Harry! Discover the origins of J.K. Rowling's wizarding world at this exhibition to mark the 20th anniversary of the publication of Harry Potter and the Philosopher's Stone. Explore how traditional folklore and the ancient art of alchemy inspired the much-loved stories. Marvel at original drafts and drawings by J.K. Rowling and illustrator Jim Kay, both on display for the first time.
Hit the Right Note Sing your heart out along with Emma Watson, Ewan McGregor and Emma Thompson in this new adaptation of Disney's iconic Beauty and the Beast with on-screen lyrics so everyone can join in. Dress up as your favourite character if you want to really feel part of the fairy tale! Singa-Long-a Beauty and The Beast, Prince Charles Cinema, Leicester Place, WC2H.  20 and 22 October. Tickets cost £15 for adults and £11 for children.
Under the Microscope Unleash your inner scientist with hands-on activities such as extracting DNA from strawberries, dissecting a jelly 'brain', taking part in a scientific treasure hunt – and discovering how medical research is helping find treatments and cures for complex childhood conditions. GOSH Biomedical Research Centre Family Fun Day, UCL Great Ormond Street Institute of Child Health, Guilford Street, WC1N. 21 October. Free entry.
When in Rome Join this family friendly walk to learn what life was like as a Roman citizen. Discover the remains of a real Roman fort, shop for foods that the Romans would have eaten, visit the entertainments at the amphitheatre…and maybe pick up a little Latin along the way!  Liberiorum Londinium (Children's London), Guildhall Art Gallery, Guildhall Yard, EC2V.  21 – 22 October. Free entry. 
Spook-tacular Enjoy a range of Halloween-themed activities, animal demonstrations and hands-on crafts at London Zoo.  Enrol little devils in the zoo's Ghoul School, where they can dress up as their favourite Halloween character, learn how to 'cast a spell' and even try their hand at mummy-wrapping, before showing off their devilish disco moves at the Pumpkin Party. Head to the Bat Cave to make mysterious masks or carve out creepy pumpkins at the Pumpkin Patch. For an extra spooky treat, take a special ghost tour to discover the creepiest corners of the zoo and hear about ghostly sightings and spine-chilling tales. Boo at the Zoo, ZSL London Zoo, Regent's Park, NW1. 21 – 31 October.  Pumpkins cost £3 for one, or £5 for two. Ghost tours cost £2.50.  Prices on top of standard London Zoo admission price. 
Face the Music See the animated film version of Julia Donaldson and Axel Scheffler's The Gruffalo's Child on the big screen, accompanied by live music performed by the London Philharmonic Orchestra.  Part of the LPO: FUNharmonics – fun, interactive activities before the concert, specially designed to get younger ears and hands engrossed in music-making. The Gruffalo's Child FUNharmonics family concert, Royal Festival Hall, South Bank, SE1. 22 October. Tickets cost between £12-20.
Behind the Mask If you prefer your spooks and ghouls to be on the arty side, then making scary (but glamorous!) masks at Studio B is for you. Plenty of glitter, glue and fun will be provided – just bring your ideas. You could even walk away with a prize… Halloween Mask Design Competition, Studio B, Kensington High St, W8. 23 October. Free entry. 
Work of Art Pencils at the ready as you join acclaimed children's writer and illustrator Nick Sharratt to find out how he creates his picture books. He'll show you how to create a character like Tracy Beaker and share some of his very best drawing tips. Bring pencils, paper and something to lean on and expect plenty of chances to join in! Nick Sharratt's Big Draw Along, Arts Depot, Nether Street, North Finchley, N12. 23 October. Tickets cost £9 (includes entry into the Big Draw event). 
Curtain Up Over the course of a fun-packed day, Chickenshed Theatre Company will use story-making, dancing, drama, singing and play to help children work together bring creative ideas to life in a short play.  Parents and carers will be welcomed at the end of the day for the final performance!  All welcome, regardless of experience. Play in a Day, Osidge Primary School, Chase Side, N14.  23 – 25 October. Tickets cost £32, with a 50% discount for siblings.
Role Model Get stuck in to some good ol' fashioned Airfix fun at the RAF Museum London.  Different kits are available, for both seasoned model-makers and those totally new to modelling. Air Fix Make and Take, RAF Museum London, Grahame Park Way, NW9.  23 – 27 October. Free entry.
Time for Fun Use recycled materials to create your very own time capsule to take home and fill with your hopes and dreams.  100 Years From Now: Time Capsules, Royal Festival Hall, South Bank, SE1. 23 – 27 October. Free entry.
Guess Who? A family fun quiz that's unlike anything you've seen before.  Hosted by stand-up fave, Patrick Monahan, this quiz mixes film knowledge and music rounds with the mystery round, where we know the questions but only one person can know the answer…and that person's in the audience.  Confused?  So are we! Film Quiz for Kids, Royal Albert Hall, SW7. 24 October. Tickets cost £11. 
Action! Filmmaking activities to inspire and motivate budding actors, directors, screenwriters or animators. BFI Filmmaking Workshops, Southbank, SE1 24 – 26 October. Tickets cost £30 for first child, siblings cost £20. 
Ticket to Ride Watch some of the world's best professional riders, including Mark Cavendish, compete to a backdrop of great music, entertainment and special guests during six days of cycling excitement at Lee Valley VeloPark. Six Day London, Lee Valley VeloPark, Queen Elizabeth Olympic Park, E20 3AB. 24 – 29 October.  Tickets cost from £20.40 for adults and from £7 for children.
Ice, Ice, Baby You could always get into the Christmas spirit early with a spot of ice-skating beneath thousands of twinkling lights with the iconic Natural History Museum as a backdrop.  Warm up with a luxurious hot choc at Hotel Chocolat's rink-side stand. Natural History Museum Ice Rink, Cromwell Road, SW7. From 26 October. Family tickets cost from £39.60. 
 Night at the Museum Are you brave enough for a spooky Halloween sleepover?  Trick or treat your way around the Museum of London galleries and solve a spooky crime by torchlight with the help of a mysterious character.  Enjoy (or endure!) a terrifying bedtime story before hitting the sack in the museum galleries.  Wake up to breakfast and a family friendly film.  London's Night Owls Halloween Sleepover, Museum of London, London Wall, EC2Y. 27 October. Tickets cost £60. 
Push the Boat Out Spine chilling tales told by a witch will make your flesh creep…and that's before you take a spooky night-time narrow trip through the Islington Canal! The Amazing Halloween Experience, London Canal Museum, New Wharf Road, King's Cross, N1. 28 and 29 October. Tickets cost £11 for adults and £8 for children.
Trick or (sweet) Treat? If your child's tastes run to something a little finer than a finger of Fudge, they'll love this yummy guided chocolate tour in Mayfair, visiting some of the finest artisan chocolatiers – with plenty of chocolate, truffle and ganache samples along the way!  Chocolate Tastings Tours, Mayfair, W1J. 29 October. Family ticket costs £60. 
Make a Wish Relax with an exotic afternoon tea in the Genie's Cave at Cutter and Squidge, with magic carpet cookies, ruby-topped dream cakes, 24-carat golden treasure biskies and gem-encrusted scones. Genie's Cave Afternoon Tea, Cutter and Squidge, Brewer Street, W1F 0SJ. £29.50 for adults, £14.50 for children under ten. 
Nom Nom The London Restaurant Festival is back for another month of foodie events across the capital. Treat the kids to lunch (or book a quiet dinner for two – you might need it by the end of half term!) at one of 300 participating restaurants offering discounts or special events.  Londonrestaurantfestival.com
 All details correct at time of going to press. Check out organiser's website for details and availability. Images: Bond in Motion Exhibition, The Robot Zoo, Horniman Museum, The Gruffalo's Child FUNharmonics Family Concert