Animal Magic
Whoever said that diamonds are a girl's best friend obviously never had a pet.  And no one loves their mutts and moggies more than us Brits: according to new research by Lily's Kitchen, almost half of us let our pets share our bed, we ring them from work and some of us even have our furry friends join us in the shower! 
Endorsed by an eclectic mix of celebs, from Mel C and Jilly Cooper to Brian Blessed and Sir Chris Bonington, World Animal Day on October 4th aims to unite the global animal welfare movement to make the world a better place for all animals.  A variety of fund-raising and promotional events are taking place all over the country, including abseiling, sky-diving and a W.A.L.K on Hampstead Heath (sshh, not in front of the dogs!) in aid of the Mayhew Animal Home.  
What better excuse to treat the pampered pet in your life?
Well-Groomed!
Treat your dog to a hair cut at Hair of the Dog in Highgate. All the four-legged clients here are treated like family, so they'll be in good hands, and will look great. A dog's self-esteem is not to be treated lightly!
Walkies! 
You know how much you like monitoring your fitness goals? Well, now your dog can too! Attach the PitPat to your dog's collar and keep track of their activities on your phone from wherever you are.  Wonder just what they're doing (and are your sofa cushions involved?) when they've clocked up 5,000 steps in an hour.£36.63, Fetch.co.uk
Bottoms Up! 
No more feeling guilty on a Friday night as your four-legged friend stares up at you with big eyes as you relax with a glass of bubbly and a bowl of Wotsits – now Fido can raise a toast with a glass of Pawsecco still 'wine' (or a Bottom Sniffer 'beer' if he's more of a real ale type) and a packet of doggy crisps, popcorn or pork scratchings.  Pawsecco/Bottom Sniffer, £2.99 per bottle Woofandbrew.com, Crisps for Dogs/Popcorn for Dogs, £2.49 per pack Bestinshow.co.uk, Crispy Pork Bits for Dogs, £2.99 per pack Lilyskitchen.co.uk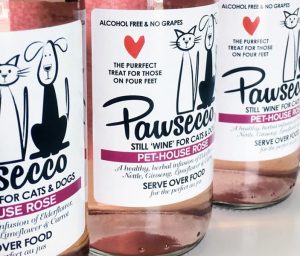 Kitty Kake!
To really celebrate World Animal Day, why not surprise kitty with a selection of delicious cupcakes, made from natural, pet friendly ingredients. Cupcakes, from £8.99 for four Twinkyspetbakery.co.uk
Puppy Love! 
For those who don't have a pet, but hanker after long, muddy walks in the park with a loveable mutt pulling at the leash, help is at hand.  With Borrow My Doggy, you can sign up to spend quality time with a local dog.  It's a win-win situation for both owners, who get their dogs walked while they catch up on Game of Thrones, and borrowers, who can enjoy happy doggy time before returning them once they need feeding and a bath! Premium membership for borrowers is £12.99 per year, which includes insurance for the dogs in your care.