The home of high fashion, art and culture – and some of the world's best restaurants and hotels – this is one of the most prestigious postcodes in the Capital. Quintessentially British with its Georgian architecture, yet cosmopolitan and modern, it is no surprise that Mayfair is the most sought-after square on the Monopoly board.
Photography by Georgia Watson

Meet the locals: Alina Scheid, Host team manager at 45 Park Lane
There's nowhere in London quite like Mayfair, and it's a great privilege to work here. A perk of my job also means that I'm well placed to know about all the best local spots, many of them foodie…
Hideaway is my go-to for a coffee: situated on Mount Street, it was launched by Ollie Dabbous and his team from Hide, so the food is pretty special too – think filled lobster rolls. Afterwards I'll head to Selfridges for a spot of shopping; voted the best department store in the world you really can get anything here.
For brunch, Hush Mayfair is my go-to, or for a special occasion, Coya's incredible bottomless Champagne brunch is hard to beat – such a treat!
For lunch, Michelin-starred ROKA Mayfair: the contemporary Japanese food is delicious and it's an amazing place to sit outside on a warm sunny day and watch the world go by.
My favourite Mayfair restaurant has to be C London, though. It's a sophisticated Italian and I think there's no better way to spend a Sunday than having an indulgent lunch here.
For drinks, I love Mr Fogg's, or the rooftop at Alto by San Carlo at Selfridges. The latter is a really special place, and the views are fantastic.
For dinner, you can't beat Amazonico; it's just so unique and the food is totally different to your typical restaurant. I also like to go to Nobu on Park Lane – it's a classic and the best place in London for sushi, in my opinion.
Of course, we're lucky to have an exceptional food and drink offering at the hotel, too. 45 Park Lane is home to CUT and CUT Out, renowned for the best steak in London and led by newly appointed executive chef Jamie Shears, as well as BAR 45, famed for its legendary Negronis. We've recently launched a brand new menu of art deco cocktails, celebrating the hotel's unique architecture and longstanding ties with the artistic era. Cheers.
45 Park Lane, W1K (020 7493 4545; dorchestercollection.com)
Streethearts: Mayfair

Shepherd Market
A village at the heart of Mayfair, this charming piazza is buzzing with chic shops, boutiques and restaurants
Mount Street
One of the Capital's most prestigious stretches, home to high end boutiques and acclaimed eateries
Savile Row
Those in search of bespoke tailoring need look no further than the world's most famous suiting street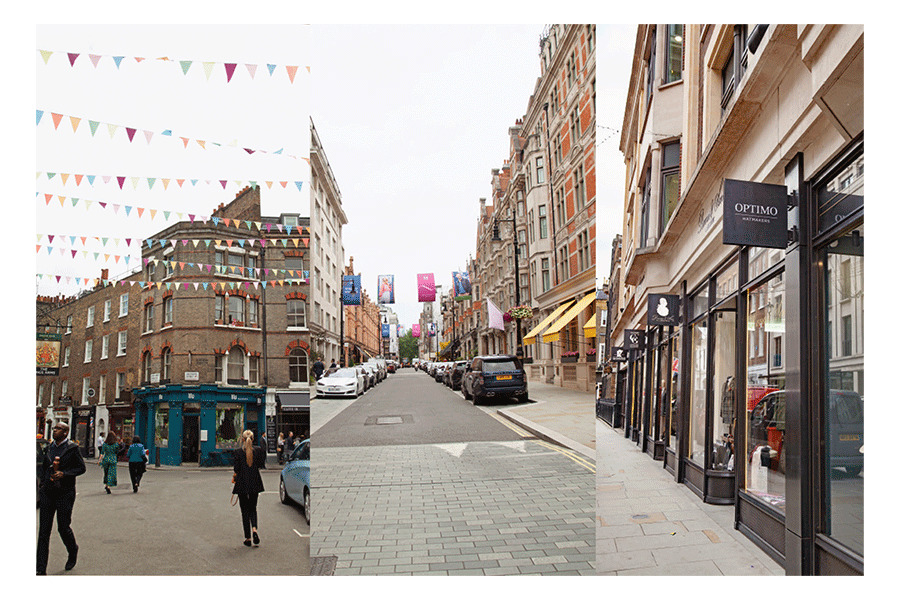 Local Heroes: Mayfair
Hush, W1S
Simon Hedley from Druce nominates this aptly named restaurant and bar, which is tucked away in one of Mayfair's many hidden courtyards – a proper local gem. "It's always festooned with flowers and foliage," he says. "It was opened by Roger Moore's son Geoffrey and it has the most wonderful al fresco dining terrace. Inside, the walls are littered with black and white celeb friends all giving the 'hush' symbol with their finger to lips." While the flower-filled courtyard is a must-visit this summer, so too is the opulent cocktail lounge. 8 Lancashire Court, W1S (020 7659 1500; hush.co.uk)
Delfino, W1K
For an authentic taste of Italy in central London, this buzzy eatery is a must-visit – Serafino Fiori opened his first restaurant, Il Marchese at 121 Mount Street back in 1953. Danish Arif from Chestertons says: "The family run restaurant boasts friendly service and has a vibrant atmosphere. They do the best pizzas in Mayfair, and it's an ideal spot for lunch or an evening meal with a drink or two." With plenty of veggie options, and delicious mains including Pollo alla Milanese, you might want to start with a Negroni as you peruse the extensive menu. 121 Mount Street, W1K (020 7499 1256; finos.co.uk/delfinos)
The Savile Club, W1K 
Historic Mayfair has evolved to feature some of the coolest galleries, shops and restaurants the Capital has to offer – but parts of it remain charmingly old fashioned. This gentlemen's club, set within a beautiful Edwardian townhouse in the heart of the neighbourhood dates back to 1868. Hamptons' Jonathan Hough is a member, telling us: "I enjoy spending my time here. It is host to one of the finest dining rooms and is bursting with charm and panache. The club and its members exude friendliness and conviviality, and for me, it really is a home away from home." 69 Brook Street, W1K (020 7629 5462; savileclub.co.uk)
Say what?
No area in London boasts more Michelin stars than Mayfair. Sixteen local restaurants share 24 coveted stars between them, and three out of the Capital's five three-starred establishments are here. Lucky locals!